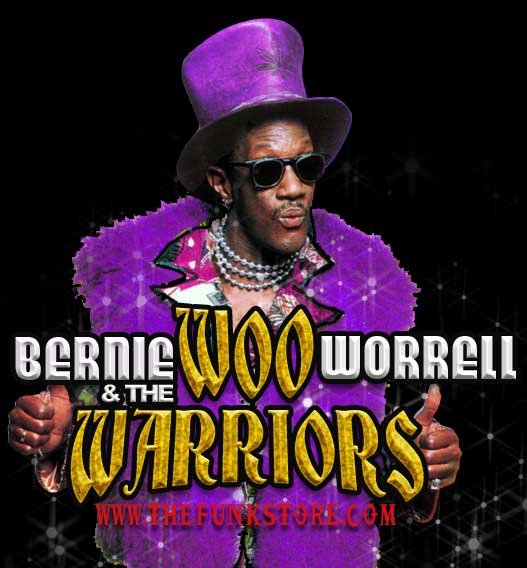 ***************************
It was Bernie Worrell's work as a founding member, co-writer, co-producer, Keyboardist and Musical Director of the massively influential supergroup Parliament-Funkadelic that sealed the induction of this genius of a musician into the Rock 'n' Roll Hall of Fame in 1997. Yet it's intriguing to consider that Worrell's numerous other stellar collaborations - most notably as a member of Talking Heads - could, in fact, place him in the hallowed Hall several times over.
In April, 2002, Worrell was reunited with Talking Heads in New York when the band received their own Hall of Fame induction. With Worrell back in place behind a bank of keyboards on the stage of Radio City Music Hall, the Heads performed show-stopping renditions of their classic songs Burning Down The House (Worrell's synthesizer work gave this remarkable Top 20 hit its definitive eerie quality) and Life During Wartime.
The New York performance provided a distinct reminder - for the few who needed one - that Worrell was indeed instrumental in shaping Talking Heads' unique sound both live and on albums such as Speaking in Tongues. Worrell also provided an influential contribution on the Heads' seminal video and album Stop Making Sense - acknowledged as arguably the finest concert documentary movie of all time.
Rolling Stone Keith Richards notes "the rare qualities of intuition and taste - not to mention humor - all come together in Bernie Worrell," and lead Talking Head David Byrne cites Worrell as "a genius."
ONE OF THE MOST SAMPLED MUSICIANS IN HISTORY
With Parliament-Funkadelic, Worrell co-wrote, co-produced, recorded and performed most of the group's compositions - classics Flashlight, Atomic Dog, Knee Deep, Cosmic Slop and Red Hot Mama, to name just a few - on its 50-plus albums and globe-spanning tours. These songs - and many more with Worrell's consummate musical licks - continue to remain popular.
Additionally, top rap and hip-hop artists and groups, including Dr. Dre, Ice Cube, Salt 'n' Pepa, Snoop Doggy Dog, En Vogue, Digital Underground, Heavy D, and De La Soul are just a few who have built hit songs around Worrell's one-of-a-kind riffs - making him one of the most sampled musicians in history.
FIRST CONCERTO AT AGE EIGHT
From the tender age of three, when Worrell began tickling the ivories, to his first concert performance at four - and his first concerto composition at age eight, Worrell was duly certified a prodigy. His studies at the New England Conservatory of Music and Julliard School of Music endowed Worrell with an undeniably strong classical foundation, the substructure for the supernatural experimentation that was to come...
In 1993 when David Letterman made his move to CBS, Worrell helped launch the CBS Orchestra with Paul Shaffer. Not limited to the small screen, Worrell tackled films: he co-wrote the soundtrack of Car 54, Where are You? (now a cult classic featuring Fran Drescher, Rosie O'Donnell and former New York Doll David Johansen) and other movies, including the Ice Cube vehicle Friday.
SAME AS IT EVER WAS!
Worrell continues to be in demand as a performer with Bootsy's New Rubber Band Featuring Bernie Worrell; Jack Bruce & The Cuicoland Express Featuring Bernie Worrell & Vernon Reid; as eyboardist for Black Jack Johnson (Mos Def's band), as the "Bernie" in Colonel Claypool's Bucket of Bernie Brains, Material, Praxis and many others.
Worrell's solo efforts have produced critically acclaimed albums: Funk Of Ages, Blacktronic Science, Pieces of WOO/The Other Side and Free Agent: A Spaced Odyssey.
And last, but certainly not least, Worrell has struck out in a new direction with his own supergroup project, Bernie Worrell & The WOO Warriors. He is currently taking his new band on the road to rave reviews, both in the United States and abroad, touring between the recording and production schedules of a Bernie Worrell & The WOO Warriors CD. Bernie Worrell & The WOO Warriors Live was released in mid-October 1998. A new live CD, entitled True DAT, was released in May, 2002.
***************************

TCC/TFS Release Date:2/25/2004
LABEL:Universal/Polygram
ORIGINAL RELEASE DATE:(April 22, 1997)
DISC : 1
CONDITION:NEW/IMPORT
STOCK STATUS : ALLOW 2 TO 3 WEEKS FOR DELIVERY


TCC/TFS Release Date:2/25/2004
LABEL:Gramavision
ORIGINAL RELEASE DATE:(September 27, 1994)
DISC : 1
STATUS : OUT OF PRINT
CONDITION:NEW/MINT
STOCK STATUS : USUALLY SHIPS IN 2 TO 3 DAYS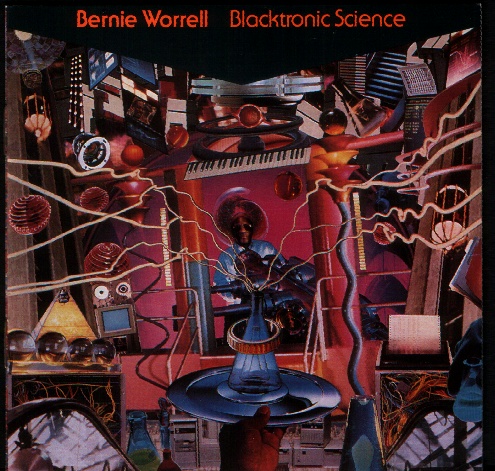 1.REVELATION IN BLACK LIGHT (2:24) ~ListenNow
2.FLEX (6:03) ~ListenNow
3.TIME WAS (EVENTS IN THE ELSEWHERE) (7:20) ~ListenNow
4.BLOOD SECRETS (6:47) ~ListenNow
5.DISSINFORDOLLARS (6:30) ~ListenNow
6.THE VISION (8:03) ~ListenNow
7.WON'T GO AWAY (5:56) ~ListenNow
8.X-FACTOR (11:51) ~ListenNow
9.DISAPPEARANCE (LIFE AFTER LIFE)(0:51) ~ListenNow