Dawn Silva-All My Funky Friends [Import]
Most of the funkateers I have talked to over the years always wondered why the females from P-Funk have had such a limited output over the years, especially since bands like Parlet and the Brides of Funkenstein disappeared from the music scene in the early 80's. While this question has yet to get an answer (from the artists themselves) all we could find on the market was Mallia 'Queen Of Funk' Franklin's "FunkenTersepter", a CD that came out a couple of years ago in Japan. (A great one by the way for all of you who don't own it yet!) Well since last July this is not true anymore!!
Dawn Silva, one of the original Brides has released her debut solo album under the title "ALL MY FUNKY FRIENDS".... Since we are entering a new millenium, and considering the state of the music you can hear on the airwaves today, the challenge was huge. It had to be a balance between the true funk as the die-hard funkateers (those who made their's the 'see funk-buy funk' moto!) and yet reach and win over a new audience while showing all the so-called female bands and artists of today what true FUNK is. I doubt very much that anybody in his right mind (funkateer or new fan) will be able to voice a negative criticism after listening to this flawless performance. Together with producer D'LaVance (a funk artist in his own right (check out his 1990 LP on Epic) who's been touring lately with the Isley Bros., Dawn has put out an outstanding collection of tracks mixing Pure Funk together with a modern crystal clear production.
From the get go ("As Long As It's On The One") and the french line 'Excusez-moi Monsieur!' you WILL be on your feet! This is the kind of sound that would put on their feet most of the participants of Return of the living dead if they ever decided to shoot a follow-up to that classic!! With keyboards reminiscent of the great Bernie Worrell (a legitimate tribute to one of the 'back-in-dah-days' originals), the relaxed yet powerful delivery of Dawn and a steady rythm, the groove is right on the One! "Break Me Off" picks it up where "On the One" left, with a wink at Roger Troutman and his Zapp sound. The Old School Funk is just what you will need to realize how much money you've wasted on lame stuff lately. Yes it takes some real funk to put you back on track and set the standard for the future releases. These days you hear the word FUNK everywhere, but you don't hear the music that is supposed to go with it! If you are in your teens today and if your parents never listened to funk before you'd be in pain to describe what REAL funk is. The manual to learn all you need to know about it is right in this album.
Rap fans can get into raw funk to thanks to "Red Light District"... 'we feel like funkin' around in the red light district' ... the haunting rythm will put you in a trance. For more party grooves "Shake It Down" will be next, although after sweating throughout the first three songs you could take a break and cool down with "Close To you"... It's only up to you since all you'll ever want is right here. If you like a harder edge 'à la Funkadelic' you can always zap to song #7 "Whole Lotta Game". If you want to go back and reminisce the good ole' days, you will switch over to the great cover of "Disco To Go", a remake of The Brides chart-topper. "All My Funky Friends" will make y'all party some mo' but Dawn can do it all,even get tears out of your eyes with "Calling Out Your Name". Meaningful lyrics over a beautiful melody, pure genius... Don't forget the other cover of the album, "I Wanna Be With You" the Bootsy's Rubber Band classic. You won't forget either that Dawn sang with the Parliament organization and Gap Band (in the 80's, mmmmmh that "Early In The Morning" video for those who know what I mean!) with the rythm of "Do You Remember Them".
Need I say more? I don't think so. All the words I can find won't replace the experience you'll live when you get that CD. Go find for yourself why this CD has been hot from day one and why Funk fans are raving about it the world over, from Spain, France and Holland to the US from coast to coast.... Soon to be released all over Europe, Dawn is only just beginning so be part of this musical journey right from the start. Don't wait to have to jump on the bandwagon... Be on top of the Funk.... ALL MY FUNKY FRIENDS is just what you waited for but couldn't imagine in your wildest dreams.
Reviewed By/Noted P-Funk Historian & Publisher Of The French Magazine "FUNK-U"**Blaise"Wonder B"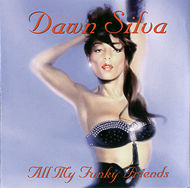 1.As Long As It's One The One {Intro}...5:54
2.Break Me Off...5:40 ~ListenNow
3.Red Light District...5:36 ~ListenNow
4.Close To You...4:10
5.Shake It Down...4:43 ~ListenNow
6.I'd Rather Be With You...6:53 ~ListenNow
7.Whole Lotta Game...4:31
8.All My Funky Friends...6:22 ~ListenNow
9.Disco To Go...5:31 ~ListenNow
10.Calling Out Your Name...5:24
11.Do You Remember Them...2:29
12.On The One{outro}...5:56