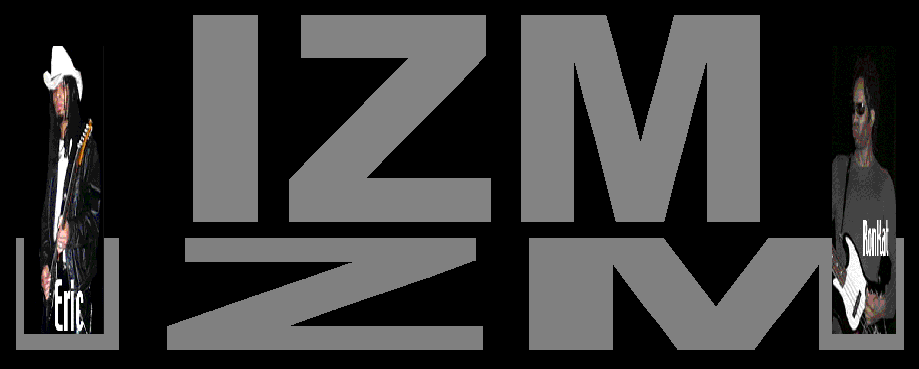 IZM (pronounced 'ism') is the latest groove collective to spin out of the Bay Area's bubbling street rock/funk scene. Now ther are all sorts of 'izms' out there. Theres neuroticizm, alienizm, favoritizm, adventurizm, idealizm, eroticizm, poetizm, sensualizm, expressionizm. IZM is a musical journey through some of these izms, although this IZM ain't those izms, get it, dig it, good. The band's objective seems to be putting some good ole 'pow-wah' back into the power trio- an all too forgotten genre in its own right. Indeed it is a treat to have a true power trio in this time and space capable of laying down such a thick groove. The treesome throws down with the unabashedness of early 80s Brit-Rock. The amazing new wave vocal sangin' styles couched down in deep funk chops and power chords from the talented Eric McFadden on guitar, the incredible RonKat Spearman on bass thump and vocals, all held in tha pocket by 'San Francisco's favorite drummer' Kevin Carnes.
Picking up right where the best of them left off (the Who, Clash, Rush, Sweet, Hardware), the set busts off with "Superstar". And indeed, what better way for a trio to kick it off than with a straight up jamm laced with 'funk & roll' fantasy. A hard 1-2 vamp powers the groove as they get into a lyrical ode to plain old rock and roll hedonism over some crunched out guitar. On "Nappy State of Mind", an outrageous chicken-scratching rythum guitar lick over a 'pop-a-long' percolating bass breakdown is mixed with a dose of Clinton-styled silly seriously vocals. Lyrics like 'nappy is in the mind not the head' and 'nappy is the root that he gave us' brings to mind vintage P funkizms.
IZM cuts right through all the BS and tells it like it is on "Can't Help Myself". Wiry guitar chords and full frontal vocal assaults of 'you look so fine I just can't help myself'-now fellas, how many times have you just wanted to to go right up to her and tell it like she aught to already know it?! On "The Web", right smack-in-the-middle of a preposterous bass funk attack the beat just melts down into a cauldron of layered guitar chords. Amid the grinding bass, Spearman brings some of his best vocals on the cd as he and McFadden churn and burn with a patiently winding guitar throttle before bringing the song entirely over the top (ever heard Funkadelic bringing home the legendary Maggot Brain?, ya'll see my point.) I cannot quite pinpoint Spearman's vocal tint. Alot of flavors going on here, seems to me a hybrid between Rick Astley and Terrence Trent D'Arby but he definelty has a unique delivery.
I like the way he is able to take seemingly simple vocal hooks and sangs them with a goose-bump-giving-in-yo-face abandon on "Off My Mind". McFadden then proceeds to take you on an Eddie Hazel-esqe blues guitar romp midway through the track. "Dreams" can only be described as a 'funk-drenched, jazzambient Spanish Lullabye'. Spacy, dreamy; Mudbone Cooper-like harmonie' s over a Simply Red smoky groove jazz/pop beat. "Surviving the Game" is just a grinding, blazing, blistering guitar battle. Combining the speed of Buckethead and the precision of Duwayne 'Blackbyrd' McKnight, McFadden literally ignites his axe and wails away as it burns white hott. The percussive beat then takes off ala MC5.
These boys need to come back with a follow up to this outstanding set. Being the collection is only 7 songs, the time is ripe to drop part two. Maybe when they aren't too too busy between opening gigs for George Clinton & The P Funk All-Stars (on which all star drummer Ron Wright joins the band on skins) and their own outside projects. But in the meantime, its high time to free your mind of all the various izms, and liberate yourself and your earhole with somma this real-IZM.
Reviewed For TheFunkStore.com..By/Funk Journalist&Atlanta Radio Personality~"Bustin'"Bob Mitchell


1.SuperStar
2.Nappy State Of Mind ~ListenNow
3.Can't Help Myself~ListenNow
4.The Web~ListenNow
5.Off Of My Mind
6.Dreams~ListenNow
7.Surviving The Game~ListenNow