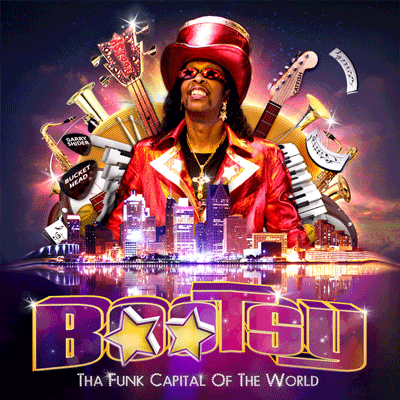 BOOTSY COLLINS
THE FUNK CAPITOL OF THE WORLD
TCC/TFS Release Date:03/29/2011
LABEL: Mascot Records
COUNTRY OF ORIGIN : USA
ORIGINAL RELEASE DATE:N/A
DISC : 1
CONDITION:NEW
STOCK STATUS:*INSTOCK*
USUALLY SHIPS IN 24/48Hrs

Man this record thumps!! The Player returns to drop trademark silly serious wisdom over an incredibly funky, densely layered airtight funk groove. This is a tribute album, containing Bootsy's funkiest licks since Stretchin' Out. A tribute to those who shaped Collin's musical and worldview thru his some 60 years on the planet.
And it simply grooves like mad, a veritable party on plastic, war on wax. Joined by dozens of collaborators and coordinators, Casper crafts a rich organic soundsscape all anchored by his propulsive, brick house Space Bass funkdation. A tribute to the One, the groovement has begun.
Many are calling this the 1st real Bootsy funk album in decades. Arguably, he's wavered into all sorts of sounds over his career, but here he returns to his raw funk roots. It's got all the elements that made BooManChu the funk legend he is in the first place: Fred Wesley's fat 'bone charts, looping Space Bass, metal guitar (Buckethead's Minds Under Construction,)
Bernie Worrell & Razor Johnson's slick synth and piano, a rich vocal chorus from a cacophony of talented singers, saucy, lasciviously sensual slow jams. This is music meant to be played loud with the bass turned all the way up but listener beware, the bottom on it will crush your woofers.
Impossible to list all the folks on this recording, but Bootsy somehow pulls it all together and produces a project for the ages. Everybody who shows up here simply just does there thang and they nail it. It's a spiritual thang, funk is more than music it's a state of mind, being. Collins understands this better than anyone, he knows you can do it and he just lets you create and contribute.
Just bring your personal stash to the table and funk on. I will say is that this is the complete utter funk bomb we've been waiting P-Funk to drop for 20 years. Submitted for your funky approval, the music is so good I'd be hard pressed to believe the deaf wouldn't be moved by it.
The funk just churls and swirls aboard this labor of love, from Dr. Cornel West's spoken word intro, The Player pops, snaps, thumps and spanks his Space Bass through 17 juicy tracks of orgasmic insanity. A joyous voyage to the personal Funk Captial of your world.
And when the album finally wraps up over The Fly Jock's spoken word outro after the erotic, slippery, "Yummy, I Got the Munchies", all I wanted to do was cue it up for another spin to be sure the dream was real.
This career-defining masterstroke is without a doubt one of the greatest funk records of all time. If you play it long and loud the love of the One will ooze from your speakers and funkify your soul. As I sit here shaking my head all I can muster is, this mutha funka is badd!!

Reviewed For TheFunkStore.com..By
Noted Cincinnati-OH Funk Journalist~"Bustin'"Bob Mitchell
Compiled For TheFunkStore.com..By:Tylard Tatt II



TRACK LISTING
1.Spreading Hope Like Dope (Intro) 1:46 ~Listen
2.Hip Hop @ Funk U (ft: Ice Cube, Snoop Dogg) 4:10~Listen
3.Mirrors Tell Lies (ft:Jimi Hendrix) 5:10~Listen
4.JB-Still the Man (ft:Rev. Al Sharpton) 4:30 ~Listen
5.Freedumb [ft:Dr. Cornel West] 4:05 ~Listen
6.After These Messages (ft:Samuel L. Jackson) 4:53 ~Listen
7.Kool Whip (ft:Phil Ade & CandiSweetz) 4:13~Listen
8.The Real Deal (ft:Sheila E.) 3:54 ~Listen
9.Don't Take My Funk (ft:Bobby Womack) 5:24~Listen
10.If Looks Could Kill (ft:Dennis Chambers) 4:06~Listen
11.Minds Under Construction (ft:Buckethead) 6:37~Listen
12.Siento Bombo (ft:Olvido Ruiz & Ouiwey) 4:02 ~Listen
13.The Jazz Greats [ft:George Duke & Ron Carter] 3:49~Listen
14.Garry Shider Tribute [ft:GC & Linda Shider] 3:29~Listen
15.Stars Have No Names 5:10~Listen
16.Chocolate Caramel Angel (ft:Faith Daniels) 6:57 ~Listen
17.Yummy, I Got the Munchies (ft:Musiq Soulchild) ~Listen






(FIRST CLASS WORLD WIDE SHIPPING)
list Price =$17.98
FunkStore/TheCriticsCorner Price =$13.98//$3.25 s/h



Powered By SGRGrafix ©/TheFunkStore.com™®..A DIVISION OF SGR.com