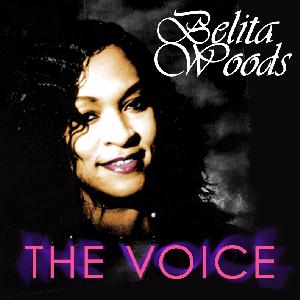 BELITA WOODS
THE VOICE
TCC/TFS Release Date:5/27/2006
LABEL: BELITAWOODSWORLDWIDE/RFR LLC.
COUNTRY OF ORIGIN : US
ORIGINAL RELEASE DATE:N/A
DISC : 1
CONDITION:NEW
STOCK STATUS:*INSTOCK* USUALLY SHIPS IN 24/48Hrs
Ladies & Gentlemen , Ms. Belita Woods...... The first time I heard The Voice I had to check my ears. It was 1992 in Atlanta's Fox Theater. The P-Funk All-Stars were in the middle of another pounding medley of heavy metallic funk. What came slicing through the dense Pee groove was a sexy feminine voice so powerfully crisp and funky but at the same time so sultry and jazzy I thought I must have been dreaming. Damn, Etta James, Sarah Vaughn and Betty Davis all rolled into one. I honed in on about center stage to perceive a shapely bantam yet towering figure of a woman cooing forth an emotionally oozing mixture of sex appeal, class, elegance, versatility and strength.
'Who in the funk is this, that.....that...voice'?! Clinton grabs the mic; "introducing ladies and gentleman, Ms. Belita Woods!!" IMHO, that was the night these ears were introduced to the most distinctive female voice in pop music today. I've been under her divine spell ever since. On the aptly titled solo-debut, Belita shows why she is ready to move beyond our familiar funk circles and take her rightful throne atop the music industry.Woods possesses a unique and exclusive gift. Her silky, seamless tonal quality remains unmatched. In the 90s, she was the most sought after lead and backing vocalist in the P-Funk nation.
Check her out on French new age disco/house ( Etienne DeCrecy's stellar Temp-O-Vision dance project), gut-bucket blues/melodramatic balladry (P-Funk's own latest "How Late?" Cd), hip-hop oriented funk (Clinton's mid-90s TAPOAFOM and Dope Dogs sets) or meditative world beat ( Muruga's spiritually engaging Free Funk & Global Villiage ). With unearthly vocal acrobatics, she waists no time in turning every song she touches into a climatic zenith of sensitivity, depth and passionate fervor. But where in the world did she come from, and how could she have been kept a secret from me for so long? Shows what I know.
Those funkin' longer than I remembered her instantly from an R&B oriented outfit formed in Detroit in the mid-70s called Brainstorm. Regularly charting in Billboard's lower ranks, they scored in 1977 with the high-energy disco smash "Love Is Really My Game". Paying homage to her roots, Belita includes a fresh newer arrangement of the track. Plus she treats you to their classic late-night slow burner (and arguably there best know jam), "This Must Be Heaven". Real soul, raw soul. But it's the new material that really allows her to make a mark.
She makes every song so personal , its like she's right there in the room with you. That's just seasoned chops. Baring her soul on songs like the dreamy "Over Emotional", the ultra-relaxing "Great Escape"and the aphrodisiastical "Take Me with You" & "If You Want Some Love". Marvin Gaye sensibilities on "Symphony". Inviting you to her private party on the pulsating and percussive "Love Games" and the reggae flavored , hypnotic chanter "Rockin' In the Club". Sweet sounds of sexy soul on "If You Want Some Love".
The producers have found the perfect combination of tracks to showcase this wonderfully versatile and talented artist whose time has finally come to pass. Ladies & gentlemen, Ms. Belita Woods. Show 'em what you got girl.
Reviewed For TheFunkStore.com..By
Funk Journalist&Atlanta Radio Personality~"Bustin'"Bob Mitchell
Compiled For TheFunkStore.com..By:Tylard Tatt II



TRACK LISTING
1.OVER EMOTIONAL~Listen
2.TAKE A GREAT ESCAPE~Listen
3.LOVE GAMES~Listen
4.SYMPHONY~Listen
5.IF YOU WANT SOME LOVE~Listen
6.ROCKIN THE CLUB~Listen
7.THIS MUST BE HEAVEN~Listen
8.DIAMOND RING~Listen
9.TAKE ME WITH YOU~Listen
10.YOU TAKE ME THERE~Listen
11.LOVIN IS REALY MY GAME~Listen





(FIRST CLASS WORLD WIDE SHIPPING)
list Price =$16.98
TheFunkStore/TheCriticsCorner Price =$12.98//$3.00 s/h
*************************************************** ***************************************************


Powered By SGRGrafix ©/TheFunkStore.com™®..A DIVISION OF SGR.com