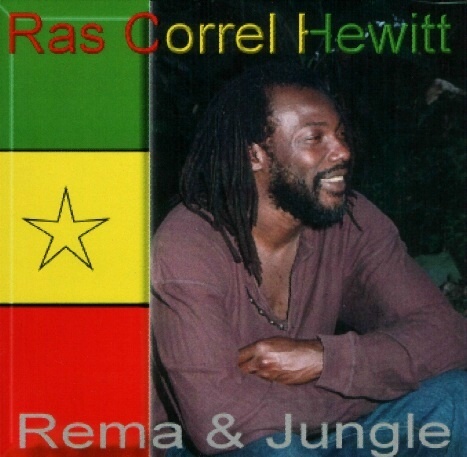 The future of reggae is now, a Rasta bomb has been dropped and " I can see the 'Fire Burning" as Ras Correl Hewitt sings on the opening track of "Rema and Jungle", a bold, potent, spiritually enhancing collection of 20 Jamaican jams. Not only does some raw third world funk flow freely all over the project, I have not heard such a genuine fusillade of passion, power and pure rhythmic and lyrical intimacy in the genre since the glory days of Rasta pioneers like Bob Marley and Peter Tosh. This is a complete celebration of life, love, service, praise, thanks, courage, compassion and positivity. It has rejuvenated my interest in reggae grooves.
So "Stop Your Crying", 'your weeeeping' as he wails over track #5. Titles like "Give a Helping Hand", "Perfect Faith", "Fling Way Your Gun" and "Do Right" let you know exactly where Hewitt is coming from. His lyrics hit you hard and blunt, 'why are you killing one another', 'live right in His sight', 'we want to see where the little children and sleeping, what the little children are eating', 'love and harmony is what we want'. His prophetic foresightedness rings true to a profound spiritual nourishment throughout this fantastic journey into the bliss of Hewitt's world. It is a world of true balance, sharing and harmony, glorifying and magnifying the Creator's love for humanity. A ceaseless rejoicing. A perpetual praise. An on-going block party luxuriant with exuberant joyousness. Indeed a commemoration and reveling in life itself as he sings, 'see the newborn baby, wrapped in the swaddling clothes' on "Ska Music".
And the music is fresh. Twanging guitars, bubbling, gurgling bass, rhythmical percussive effects, as well as lubricous synth licks and the snaky horn charts of tracks like "Ram Jam Party". Just everything, all the elements of good reggae music are up in the mix. Hewitt willingly takes the listener into the realm of absolute spirit on "Bended Knee" and "Thanks & Praise". This truly embellishing recording is an unfoldment of the beauty of life. Indeed, "Why Worry" when you can pray'. I encourage you to partake of this raw reggae; it's as pure and undiluted as the crystal clear blue waters of the coast of Hewitt's native Jamaican land. .
Reviewed For TheFunkStore.com..By/Funk Journalist&Atlanta Radio Personality~"Bustin'"Bob Mitchell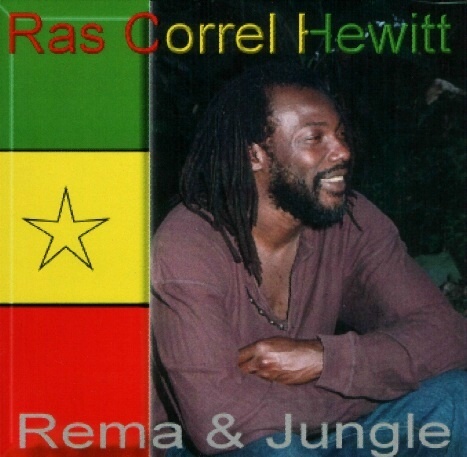 1.FIRE BURNING~ListenNow
2.BADNESS~ListenNow
3.COMING HOME~ListenNow
4.ROOTS & CULTURE~ListenNow
5.STOP YOUR CRYING
6.GIVE A HELPLING HAND
7.IYA BINGIE~ListenNow
8.PERFECT FAITH ~ListenNow
9.REMA & JUNGLE~ListenNow
10.IF YOU LOVE ME ~ListenNow
11.FLING WAY YOU GUN~ListenNow
12.ON THE RADIO~ListenNow
13.DO RIGHT~ListenNow
14.RASTA FOR I~ListenNow
15.SKA MUSIC~ListenNow
16.RAM JAM PARTY~ListenNow
17.BENDING KNEES ~ListenNow
18.ONE QUESTION~ListenNow
19.THANKS & PRAISE ~ListenNow
20.WHY WORRY


Ras Correll Hewitt - Vocals ,Guitars