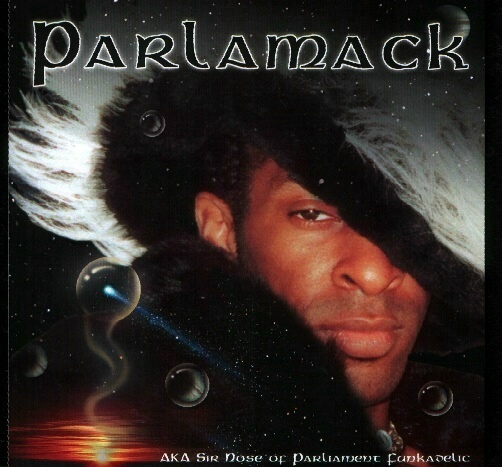 Parlamack is aka Sir Nose of Parliament Funkadelic aka dancer/master contortionist and pelvic grinder one Carlos McMurray. During the various 90s P-Funk tours, crowds witnessed night after night the amazing physical impossibilities and mind-boggling-doubled-jointed muscular sonic exploits of old Sir Nose. He would put his wiry frame through these outrageous gyrations having been knocked upside the head from a strobatomic blast of Starchild's Bop Gun!!! Although I never ever heard him vocalize anything from the stage, I spoke with Carlos briefly a few years ago in Chattanooga during one of P-Funk's legendary southern road swings, which upon he informed me Parlamack was still to come. It took several years but, well here it is, and from the sounds of things not only can Nose dance, he gives up the funk with some seriously stanky and slippery back-to- futuristic hip-hopping on the one. I knew the time would come when those Bop Gun blasts approached critical mass.
He wants to slap your earhole through some 'O-G hypnotic fonk' as he raps on "Shake Ya Dank" over a phat bass synth loop and straight ahead percussive thumps. It's got a few samples and reworked grooves on here, right off I recognize a beat from One Way's "Cutie Pie", but its real freshdelic. The effort is rooted in Parliament rhythm and wit with 'enough aqua boogie to make it street level'. Its 420 and you can tell Parlamack is ready to get his toke on "RydinHy" over a laid-back smoke-filled pimp groove. 'Why are you hoggin' that mutha fucka?' somebody trying ta smoke up alla his shyt, indeed put some of this 'supersonic, hypnotic, bionic, bubonic chronic' into your pipe and blow it. There are plenty of flavors on here. Delightfully 80s but much funkier than anything that could have come out in the eighties. On "Keep Funkin", the Gap Band's "Yearning for Your Love" becomes the blueprint and phat bass bottom as Parlamac spits out a wicked old skool rap attack. P-Funk All Star vocalist Belita Woods is featured on a few of the tracks, she oozes and schmoozes all over the "Pimp-Hoe Duet", an interesting take on Luther Ingram's "(If Loving You is Wrong) I don't Wanna Be Right".
Parlamack poses the burning question 'where have all the players gone?' with some excellent blackground vocals over the Marvin Gaye-esque "Mercy Mercy". Hey, there's a quick snippet from Zapp's "Computer Love" on the ultra funky "Da Club", where there's 'no last call for alcohol, from aleze to henessy, from tangerae to E & J to himalay to Bombay'; just party bobba. The gooey, gravel-voiced rumblings of George Clinton on "Bounce to This". Carlos McMurray is one shyt-talking, good-time-having, pulsating, dancing, and rapping mofo!! So what if he re-works a few grooves, his unparalleled old skool rap style and tight backing vocal arrangements bring new life and create a brand new bag of stankified fonk. Spewing forth haughty, articulated rhymes ala Rudy Ray Moore/Dolemite, he urges the listener to 'swing down, sweet chariot, to this drop top mothership'. My fave track is a slow burning, mesmerizing chunk of smoldering "Hypnotic Fonk" with somebody sanging a Curtis Mayfield-like vocal chorus over Parliament's "Motor Booty Affair" as the rap melts into an opulent splash of layered vocal chant 'don't you know we come to funk you'. Although you will recognize some licks on here, like the bassline from Parliament's "Pay Attention-B3M", this ain't no retread, its "Anonsensicalmusical" indeed. There's enough original material here to funk you up right, like the smooth rhythm, guitar inspirations and laydee vocal yowlings over the intro to "Ride to This". Although 'this be the shyt when you sippin' a fifth or twistin' up a spliff' it works just as well while sober.
Reviewed For TheFunkStore.com..By/Funk Journalist&Atlanta Radio Personality~"Bustin'"Bob Mitchell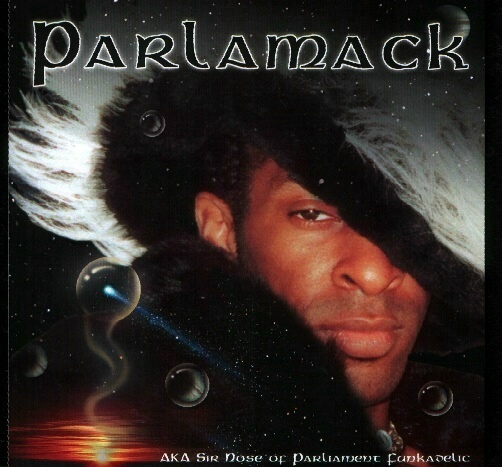 1.INTRO-SIR NOSE~ListenNow
2.BOUNCE 2 THIS~ListenNow
3.SHAKE YA DANK
4.INTERLUDE-J.C LIVE
5.RYDIN HY~ListenNow
6.KEEP FONKIN~ListenNow
7.INTERLUDE-I LIKE BEING A ***
8.PIMP-HOE-DUET ~ListenNow
9.MERCY MERCY
10.WADADADA ~ListenNow
11.DA CLUB~ListenNow
12.FONKY FRIENDS~ListenNow
13.DR.BOMBAY~ListenNow
14.MR.FEELGOOD~ListenNow
15.RIDE 2 THIS~ListenNow
16.HYPNOTIC FONK~ListenNow
17.ANONNSENSICALMUSICAL ~ListenNow
18.BONUS TRACK:HYPNOTIC REMIX