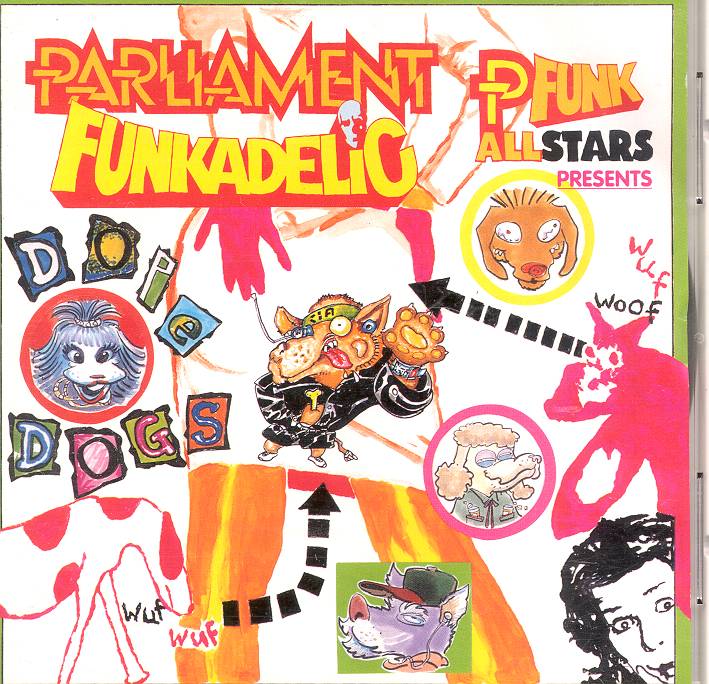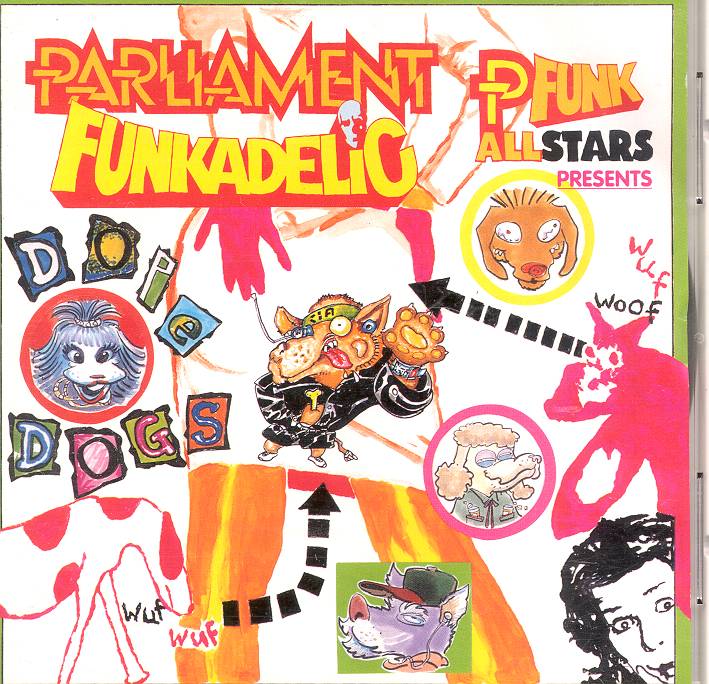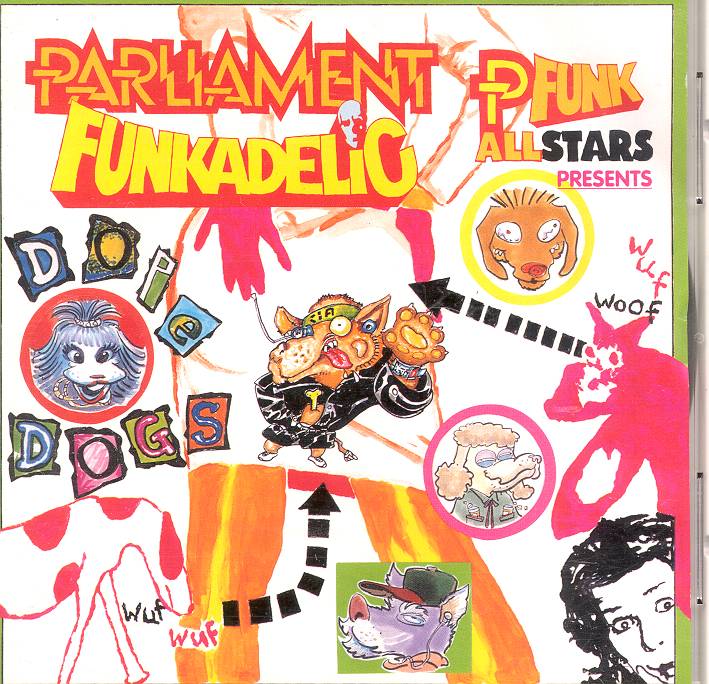 George Clinton and Parliament/Funkadelic's 'DOPE DOGS' is P-Funk at what it does best.It pushes the boundaries musically and conceptually while staying current with todays recording techniques.It features many musicians from it's past,due to previously recorded tracks,and loops that are so well disguised in the mix,that they actually are new creations with certain parts you can recognize from various P-Funk tunes.This makes for a puzzle as interesting as the theme of the work,which deals with the international drug trade from boats and planes, right down to snitches and crack addicted bitches who'll do anything for a beam up.
A roar of strong sound eminates from the guitar of "Blackbyrd"Mcknight to start the disc with 'Dogstar(Fly On)'.This song ,which also has fastly become a feature of the live shows has personnell on it who are very heavy hitters even by P-Funk standards.On drums you have Gabriel"Undi$co Kidd"Gonzales,keyboards are played by Funkadelic's Bernie Worrell,while the bass is solidly held down by Lige Curry.Vocal chores are handled by Michael"Clip"Payne,Larry"Sir Nose"Heckstall,Louie Kabbabie,Andre' "Foxxe"Williams,and George Clinton.George's dog in this case is a star.As life itself and rebirth are shrouded in the mysteries of the universe, deciphering the zepth of the myriad of meanings and cryptic conceptual "sub-genius-to the max"Clinton employs here are serious!
"U.S. CUSTOM COAST GUARD,NICKNAMED BUST 'EM!"
I just read in the paper where a K-9 was suspended for biting a local police officer and a state trooper!So it's time we gave these overworked ,drafted police pooches some consideration.Because"A war on drugs is hell on a dope dogs nose".This is a smooth cut,slow pace but still danceable.With a tinkle of the keys from Joseph"Amp"Fiddler,and a monster track,Clinton drops the science on the game where laundering doesn't wash away the shame. Next,we have 'Some Next Shit' a tune put together by one of the rapidly increasingly funky rank and file turned leader,Michael"Clip"Payne ,who along with Clinton gives the last word on cussing,gang relation,noise,and REAL FUNK ,as oppossed to a facsimilie.Looping of funk into funk becomes "a picture within' a picture ,behind a picture".As sounds move to and fro during this groove,Clip's hardline delivery to those who would dare to be "posin' to be perpertrators,posin' with the funk.Proudly displaying your P-Funk signs.Quit it,I ain't wit it." 'Just Say Ding'(Data Boy)' is one of those songs that is educational.Ever hear of the Pavlovian experiment?Well,it's ZEEP.From a state of convincing delirium ,George's delivery is as dope as a dog strung out by those digging for data ,as he delves his way through,dealing with what has been put on him.In others words,
"WHERE IS THE DATA THAT MATTERS TO ME"
"I'M THE PRODUCT OF A PAVLOVIAN EXPERIMENT"
The disc is dope all the way through,as George's son,Tracy"Treylewd"Lewis raps on 'Help Scottie,Help(I'm Tweaking and I Can't Beam Up)'he's a monster of let's make deal in exchange for a thrill.More chips off the old funk block drop some on beat boppin' lyrical ballad of 'Pepe(The Pill Popper)',all the while the piano background accompanied by some very jazzy vocals from Belita Woods is the type of meeting of the generations on one track that generate the fusing of P-Funk into every type of music that there is. Of the new songs on this release of DOPE DOGS,'Back Up Against The Wall' is a gem of a track that was circulated on the underground as early as 1985.Timeless as it is,it was not updated at all since.It features the classic Funkadelic style,as Blackbyrd Mcknight lays down some wicked funk guitar that will "take a hundred and still be dope".Garry Shider,and George Clinton sing the lead on the track.While you hear samples of old funk throughout,you get ample new funk right on top of it. On cuts like 'FIFI',which moans of whining guitars,and a vocal hook and harmony that are infectious.
You get the party started and it just keeps going all night,much like the P-Funk show.'All Sons Of Bitches'is a combination of live and studio funk feel that takes you to that place that gives you the state of mind that enables you to get off for several hours,as the P-Funk is known to do.'Sick 'Em' is an instrumental that actually was done with the late Eddie"Maggot Brain"Hazel .It has that clever use of beats that"The Man In The Box" aka Clip Payne is known for. 'Tales That Wag The Dog' is another tune featuring Treylewd ,that is so real in it's portrayal of the drug snitch,that singing it can cause a "whack"!Not to be confused with "wack"as this is one of the funkiest of the tracks.Tracy sounds like a mutated-mouthy-tell tale-horror. You'll find a groove all the way across this cd.A venture for hip -hop heads,hardcore maggots,rock guitar enthusiasts,conspiracy theorists,scientists,and most of all DOGS!
Reviewed By Noted P-Funk Historian/Robert"Maggot Minister"Ward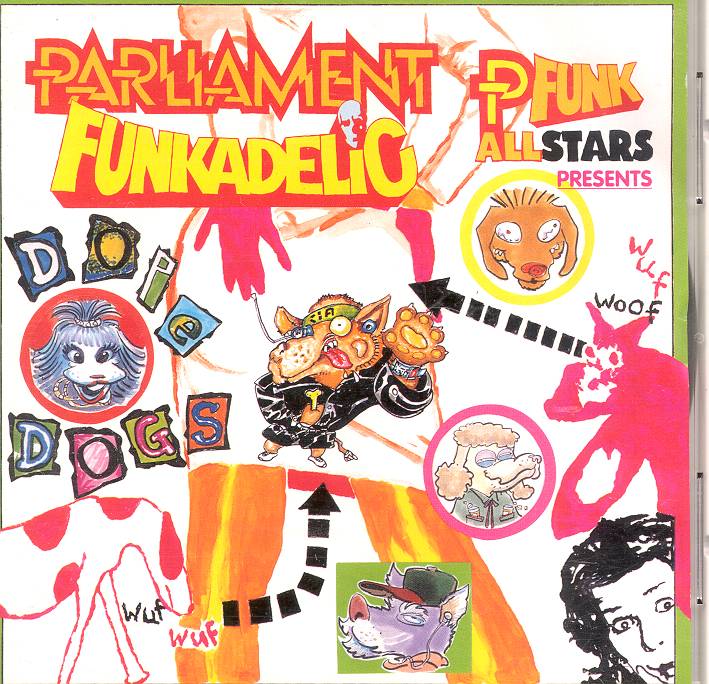 1.Dog Star(Fly On) ~ListenNow
2.U.S Custom Coast Gaurd Dope Dog
3.Some Next Shit
4.Just Say Ding(DataBoy
5.HelpScottie,Help(I'm Tweaking&I Can't Beam Up)
6.Pepe(The Pill Popper) ~ListenNow
7.Back Against The Wall
8.FiFi ~ListenNow
9.All Sons Of Bitches ~ListenNow
10.Sick Em (Instrumental) ~ListenNow
11.I Aint The Lady(He Aint The Tramp)
12.Pack Of Wild Dogs
13.Tales That Wag The Dog
14.My Dog ~ListenNow