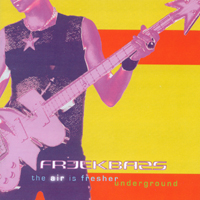 FREEKBASS
THE AIR IS FRESHER UNDERGROUND

TFS Release Date:10/28/2003
LABEL:GEMINI/BOOTZILLA
COUNTRY OF ORIGIN : USA
DISC : 1 (MultiMedia)
CONDITION:NEW

EDITOR'S NOTE: "The Air Is Fresher Underground" is the second collaboration between Freekbass and Bootsy Collins, who also executive produces this album. This release features special appearances by Bootsy, Buckethead, Bernie Worrell, Catfish Collins, Richard Fortus and vocalists Carole Walker and Melanie Gregory ..

If his last CD "Body Over Mind" was the funk bomb, this is the subsonic mutron-laced nuclear groove assault. Oh, the last lp was way funky for sure, albeit with a certain commercial slickness to it. This time Freekbass kicks any appeal to radio programmers to the curb and "Knocks The Walls Down" with a blistering set of format-busting no-nonsense funk.
Indeed as he sings over the opener 'I think its time for the world to see, how we act when we are free'. Its grittier, truer, rawer, edgier, rockier, alas 'The Air Is Fresher Underground". Bootsy makes a much more pronounced role here, co-writing and performing on several of the tracks. He's clear-headed and producing the future of the funk. That clarity and focus transmits to the songs, only one of which clocks in at over 5 minutes.
Both "Burnt Cat", "Getting It" & "Check It" are all stanking slices of big foot funk with raps by Swift, those crisp Bootsy vocals, Catfish Collins laying down some superb chicken-sctach licks on guitar, and that throbbing low-end plucking of the Freekbass. Lots of Bootzilla-influenced bass playing here, it's a real bass album by a real bass player. Nowhere are Casper's vocals so tight as on "Always Here" of which he overdubs some smooth Freekbass vocals for a lyrical duet.
Bernie Worrell's incredible piano interspaced throughout the bluegrass , up-the-country feel of "Do We Even Belong Together", with its fiddle & banjo mutha-pluckings. Freekbass writing style is so up-front, he's a master at revealing inner parts of himself and allowing us free access into his world and mind. Not only does the funk roll free and fluid here, its also a lyrical masterpiece. Plus there is a tight enhanced video on here too So let the freak in your soul feel soma this Freekbass fonk.
Reviewed For TheFunkStore.com..By
Funk Journalist&Atlanta Radio Personality~"Bustin'"Bob Mitchell


**USUALLY SHIPS WITHIN 24HRS

TRACK LISTING
1.Knock the Walls Down~Listen
2.Do We Even Belong Together?
3.Always Here~Listen
4.Invincible~Listen
5.Play~Listen
6.Burnt Cat~Listen
7.Gettin' It~Listen
8.Merge~Listen
9.Check It
10.No Regret~Listen
11.Minute To Forever~Listen
12.You~Listen
13.Summer
14.Always Here (Video) With Bootsy !~Watch Now





(FIRST CLASS WORLD WIDE SHIPPING)
list Price =$18.98
TheFunkStore Price =$14.98//$3.00 s/h
Powered By SGRGrafix ©/TheFunkStore.com™®..A DIVISION OF SGR.com