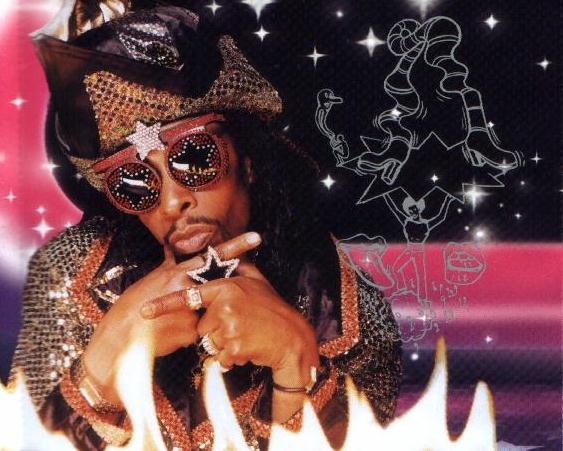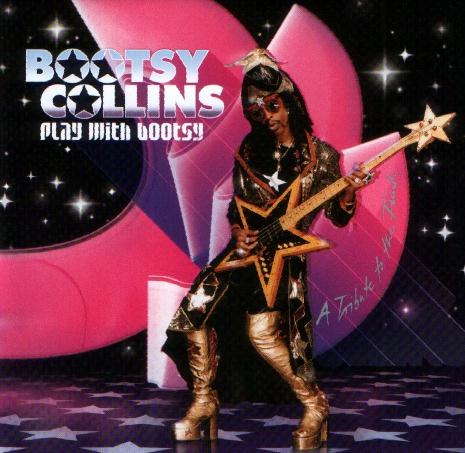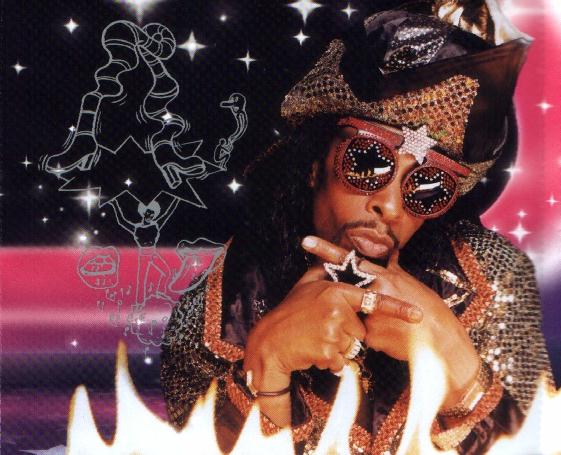 Even though Bootsy Collins has finally grown up, he'll always just be this big ole cartoon-minded kid with or without his trademark star shades. And he is aging gracefully, constantly refining and re-designing his signature propulsive galactic vibrations pushing the funk light years in time ahead of its time. "Play With Bootsy" is in all probability the most decidedly club-oriented/spiritual statement effort thus far in his oddessic like 4-decade musical journey. It is indeed some 'All Star Funk', old skool in a new way, a new day. On it he enlist a motley crew of some of the favorite 'stars' in the Casper Universe. Therein you'll find folks like Snoop Dogg, GC, Lady Miss Kier, Sly & Robbie, Rosie Gaines, Macy Gray, Bernie Worrell, Fred Wesley, Bobby Womack and too many others to mention. This time around Bootsy's true genius lies in being able to pull off such a massive effort surrounded by all of these funksters without even playing a gang of bass and still he is unquestionably the most dominant, distinctive force on the recording. Now c'mon, did you really think that their collective shine would eclipse the spaced splendor of the original Rhinestoned RockStar. There are stars and there are Stars and then there is The Star, the Player of the Year.
Even with all these muthas on there, its still a perennial Bootsy record. Indeed on the liner notes he proclaims, 'whats new gets old, but what really matters is that this funky DNA gets inside your soul, now stop playing with yourself, and come-play-with-me-uhh-Bootsy Baby! Give it a chance, you will dance, metabolic imaging to make your mind enhanced'. This "Inner Planetary Funksmanship" begins with Bootsy's all-star roll call thanking all of the artists on the album for helping to 'keep the funk alive'. Get on "The Funkship" and come "Play With Bootsy". The title track is basically a housed up cosmic 'crash down into earth land'. Over a 'bassline that is so fine', Keli Ali leads the flowing, fluent, fluid like vocal charge on this elastic club wipe out cut as Bootsy asks the question 'do you wanna get physical or spiritual?' A nice little bonus is you also get the video to this cut. 'Put your guns away', Bootsy assumes the role of "Love Gangsta" as Snoop gets wicked over a west coast g-funk type groove. Mike Hampton even shows up in the mix here adding a hypnotic guitar clank. Fat Joe busts out a sharp freestyle rap over a fat rhythm section laid down by Sly & Robbie on the mix for "Soul Sista", another hip-hop track. Snoop Dogg makes another appearance on the record along with the outstanding power-in-the-house vocal chops of Rosie Gaines on "Don't' Let 'Em". For the most part it's a jazz track, crisp and clean, with a lot of snap on it. Rosie's vocals are saucy, just thick. "You say in God we trust, while you promote fear, greed and lust", his Casperosis exclaims. This is just a classic cut here.
Bootsy dispensing his unheralded brand of multi-personic silly serious witticism like never before, and his vocals are fresh, maybe his best vocal performance ever. Bootsy goes straight into mid-80s-Minneapolis funk faze for the track "Groove Eternal" featuring One and Bobby Womack. The difference here are the ripe, plump blobs of Boo-Man-Choo's Space Bass in yo' Face. That same stupendously slippery smoove, slick synth- driven twin city beat returns for "Dance to the Music", I would swear there's even a snippet of Prince's "Sexy Dancer" up in there. One's heavenly, ambrosial vocal tones once again bless the cut. Bootsy continues to spread his 'brotherly love from the man up above' on "Funky And You Know It", a pulsating techno work out featuring Macy Gray's most wiry vocals of the set. The track bumps and grooves, with some pretty nasty charts from George Clinton, funk me dirty for sho'. After all these years, Bootzilla is still pulling more characters out of his animated imagination. This time it's 'Boot Rapp-A-Fella'. Landing on the planet to get funked up with Dee-Lite's Lady Miss Kier on "I'm Tired of Good, I'm Trying Bad". FatBoy Slim (Whom Bootsy won the award with at this year's Grammy's) contributes a Tone-Loc "Wild Thang" groove for "The Bomb" which also is a fresh re-visiting of Salt-n-Pepa's throbbing "Push It'. One of the true joys of following Bootsy's illustrious career (now some 11 studio albums along the way) is whether he's playing bass, guitar, keys, or drums Bootsy is truly one of the most unique performers ever. Fred Wesley takes a trombone solo on "All Star Funk", then Bootsy sums it all up, 'what happened to the song cuz I don't hear no bass, just meet me in that other place'. Simply get on board the Funkship, present your funk express kard and let him take you there.
Reviewed For TheFunkStore.com..By/Funk Journalist&Atlanta Radio Personality~"Bustin'"Bob Mitchell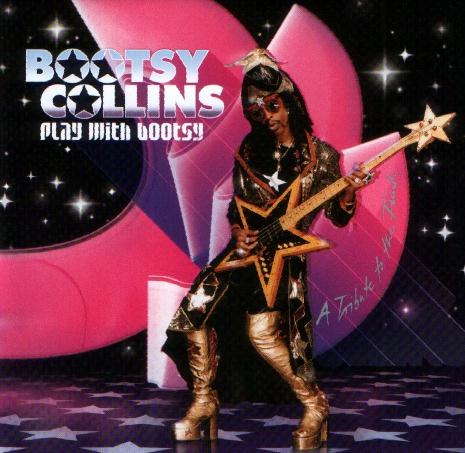 1.INNER-PLANETARY-FUNKMANSHIP~ListenNow
2.PLAY WITH BOOTSY~ListenNow
3.LOVE GANGSTA~ListenNow
4.SOUL SISTA~ListenNow
5.DON'T LET EM~ListenNow
6.A LIFE FOR DA SWEET TING
7.GROOVE ETERNAL
8.DANCE TO THE MUSIC~ListenNow
9.FUNKY AND YOU KNOW IT~ListenNow
10.I'M TIRED OF GOOD,I'M TRYING BAD~ListenNow
11.ALL STAR FUNK~ListenNow
12.THE BOMB
13.FUNKSHIP~ListenNow
14.Enhanced Video "PLAY WITH BOOTSY" ~WATCH NOW