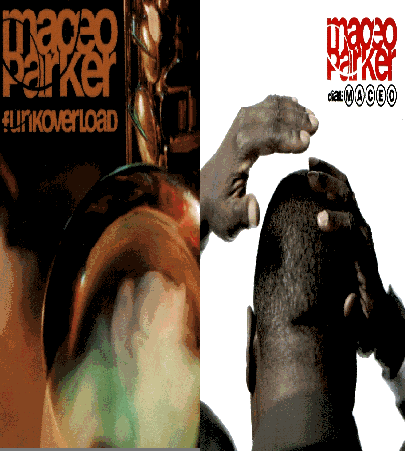 FUNK OVERLOAD - Maceo Parker - What Are Records? - WAR 60032. Produced by Daniel Wise. Executive Producers: Maceo Parker, Natasha Maddison, Rob Gordon, Joachim Becker DIAL: MACEO - Maceo Parker - What Are Records? Produced by Daniel Wise w Prince. In the post -Mothership Retrofit/No Big Payback era, Maceo Parker has successfully managed to launch his band from the legacies of two pillars of funk: James Brown and George Clinton. Back in the day, Parker's horn and leadership was essential to the bands of both these funk-fathers. Now, however, he prefers to blow his own bag of "2% jazz and 98% funky stuff". These two releases showcase Maceo keeping things in a funky jazz groove with a nod to the future.
Issued in 1998, FUNK OVERLOAD features a combination of catchy originals and fresh cover versions of r & b and pop classics. The instrumentals feature standout solos from Maceo on alto sax and flute, while the horn chorus includes band member Ron Tooley and longtime associate and dear friend Fred Wesley on trombone. Maceo supplies most of his own lead vocals, but he shares the load by utilizing his son Corey for rap vocals. Those with a strong anti-rap bias can relax. Corey's raps are witty without being profane and still maintain the funk edge.
"Uptown Up" is a driving funk number with a full force horn chorus. Corey raps on the tag end; smooth and melodious. He's also featured on "Maceo's Groove" and has completely reworked the lyrics to Marvin Gaye's "Let's Get It On". The humorous "Elephant's Foot" has Maceo on vox, singing about pachyderms that are dancing to his funky horn. There are also covers of the Rufus & Chaka Khan hit "Tell Me Something Good", Marvin Gaye's " Inner City Blues" and the slow dance chestnut "Going In Circles". The remaining originals are fresh and funky and give the cd a good balance of new and the familiar. After two years of relentless touring around the world, Maceo got his road band into the studio to record the follow-up to FUNK OVERLOAD; DIAL MACEO. Rodney "Skeet" Curtis (bass) and Greg Boyer (trombone) came over from the crowded PFunk stage. "Skeet" ably holds down the bottom on the rhythm, while Greg Boyer provides bottom for the horns and also does the horn charts.
The mix of tunes is similar to its predecessor. Classic covers and a few new tunes with occasional rap vocals Corey. Princes, who back then masqueraded in his SYMBOL guise, provides an additional assist. He contributes to an instrumental version of his hit: "The Greatest Romance Ever Sold" and the hidden track "Baby Knows". Other covers include the Isleys "I've Got Work To Do", "Closer I Get To You" and Paul McCartney's "My Love". Among the outstanding originals are "Black Widow" with a tasty rap vocal, "Simply Tooley" which features the trumpeter on Harmon mute and the funky "Homeboy" which fades into the hidden Prince track "Baby Knows". Maceo seems to prefer a musical version where the horns and vocals lead the mix. His choices for old and new material allow him to showcase this. Both albums are deep in t he funk and there's a nice little touch of jazz to keep the funk alive.
Reviewed For TheFunkStore.com..By/Noted P-Funk Scholar&Los Angeles CA. Writer~Clyde"CM"Talley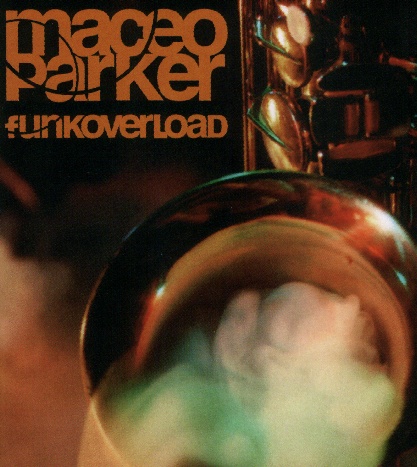 1.UPTOWN UP ~ListenNow
2.SING A SINGLE SONG~ListenNow
3.MACEO'S GROOVE
4.ELEPHANT'S FOOT~ListenNow
5.LET'S GET IT ON~ListenNow
6.TELL ME SOMETHING GOOD~ListenNow
7.YOUTH OF THE WORLD
8.WE'RE ON THE MOVE ~ListenNow
9.INNER CITY BLUES~ListenNow
10.DO YOU LOVE ME ~ListenNow
11.GOING IN CIRCLES~ListenNow


©2002/WAR