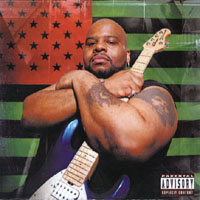 Jimi Hazel is the lead guitarist and co-founder of the black rock band 24-7 Spyz. He and bassist Rick Skatore conceived an aggressive blend of rock, rap, soul, and reggae that rode the waves churned by Living Colour's rise to popularity in the mid-80s. The band managed to attract the attention of the maniacally loyal and supportive black rock underground. The New York-based unit recorded and released six cds before disbanding in 1997 with little, if any, radio airplay. "21stCenturySouthBronxRockStar" is Jimi Hazel's one-man-does it-all return from this all too-long hiatus.
Hazel takes his stage name from the acknowledged past masters of black rock-funk guitar: Jimi Hendrix and Funkadelic guitarist Eddie Hazel. For this session he plays guitar, bass, drums and keyboards and supplies all the lead vocals. A few special guests from the hip-hop nation are on hand for an extra assist.
The cd opens with "The Ladybug Speaks", a spoken intro by Renell "Ladybug" Richardson . Ladybug smooth playful vocals welcome listeners of diverse backgrounds to the musical world of Jimi Hazel (also known as Sepia XL). She explains that in the musical world of Jimi Hazel, soul is important because Jimi feels "rock without soul, don't roll". Hazel, meanwhile, creates an aural landscape of drumloops and keyboard and guitar riffs.
The title tune, "21stCenturySouthBronxRockStar", is Jimi's manifesto. It's as much a formal challenge to the MTV and BET naysayers as well as a call to arms to the funk underground. This tune is loud and aggressive: Hazel's got his freak flag up and flapping the funk all around. It rocks hard like dark heavy metal, yet still asks, "What the hell happened to real r&b?" Hazel stomps loudly and proudly for his music with head-banging chants and booty-shaking grooves.
"Waiting For the Sun" has a driving rhythm with hip-hop scratches, catchy guitar hooks and hummable lyrics. Hazel sings soulfully about redemption and the search for a new direction. Snappy drumbeats lead directly into "Soulsucker". This song is about denying a selfish lover any future commitment. Scratches provided courtesy of DJ Rocking Rob.
"Face the Day" is destined to be a headbanger's fist-pounding favorite. It has a catchy call & response and a power-crunching guitar riffs. Mo Butta Butler "Aka" MC Turbo B, formally of the group SNAP! provides a short rap vocal.
"Faithless" represents a good choice for a single. It's a song about disillusionment, but it's still a bright song that one can sing along with on the choruses. It also features a good solo at the bridge.
"The Saturday Song" follows and it also is a good choice for single release. Maybe even better. Dedicated to his wife, it's a song about love happening when it's "supposed to happen" on a summer date in July. The choruses ring thru with much joy and happiness. In the chorus, the guitar uses a chanking rhythm over a funky drumbeat and a catchy lyrical hook reminiscent of Lennon and McCartney. This is a top-notch piece of song craftsmanship. It's radio-friendly and begs for a video to be made.
"October" is another song dedicated to Hazel's wife. His vocals are soulful and clear, with a touch of plaintive falsetto.
"Keeper of The Flame" tells the story of how Hazel went to see Jimi Hendrix perform live and, then dedicated himself to carrying the torch. "It's Your World" is a choice comment on living in today's world and making the best of things.
"Sheep" chides the mindless followers in society and teases about there being "one too many sheep", complete with a reference to Funkadelic's classic "Free Your Mind". "Comeuppance" joins Hazel with Mo Butta on vocals for a hard-driving rap-metal outing.
The final two tacks are instrumental version of "Faithless" and "Face The Day". A great idea that highlights Hazel's amazing guitar prowess and also reveals how catchy his melodies are. Hazel announces on the liner notes that he's ready to get out on the road and present his band and music. It's sure to be a head-bangin' and butt-shakin' affair. This is an excellent collection of soulful hard rocking tunes. Highly recommended.

Reviewed For TheFunkStore.com..By/Noted P-Funk Scholar&Los Angeles CA. Writer~Clyde"CM"Talley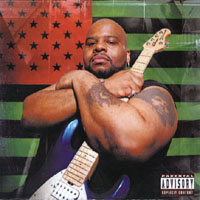 1.THE LADYBUG SPEAKS ~ListenNow
2.21CENTURYSOUTHBRONXROCKSTAR~ListenNow
3.WAITING FOR THE SUN~ListenNow
4.SOULSUCKER~ListenNow
5.FACE THE DAY~ListenNow
6.FAITHLESS~ListenNow
7.THE SATURDAY SONG~ListenNow
8.OCTOBER ~ListenNow
9.KEEPER OF THE FLAME~ListenNow
10.IT'S YOUR WORLD ~ListenNow
11.SHEEP~ListenNow
12.COMEUPPANCE~ListenNow
13.FAITHLESS (INST)
14.FACE THE DAY (INST)

Produced By : Jimi Hazel For Sepia XL Prods.