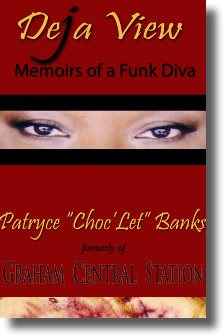 PATRYCE CHOC'LET BANKS
DEJA VIEW : MEMOIRS OF A FUNK DIVA

TFS Release Date:12/07/2010
AUTHOR: PATRYCE CHOC'LET BANKS
PUBLISHER: PCB
COUNTRY OF ORIGIN:USA
FORMAT: Softcover: 288 pages
CONDITION:NEW

*** Each Book Signed By PATRYCE ! ***
When much celebrated musical legends like James Brown and Sly Stone started dropping funk bombs in the late 60s, the seeds for a new era in popular music culture had been planted. The following decade saw the fruits of the funk movement in full bloom thru a plethora of self-contained super-high octane funk units launching a relentless assault on the spirits and bootyís of Black America and beyond.
Formed in the wake of Slyís self-inflicted disintegration was the heaviest of this new breed of urban funksters, Graham Central Station. The group, led by Sly alumnus and ground-breaking funk bassist Larry Graham, not only racked up a string of chart topping funk fables but set the standard for live performances with its unique brand of foot-stomping, gospel tinged funk that blew the walls off of modern music. Though Graham was the front man and often received the majority of credit for the groupís spell-binding imaginative success, it was the accompanying bay area singers and musicians that defined the much copied Graham Central Sound.
L.A. native and Funk Diva #1 Patryce ďChocíLetĒ Banks has released a luscious new memoir that chronicles one helluva ride aboard the Graham Central Station wagon. This soul-scorching, page-turning and often mind-boggling tale of how Patryce came to be the groupís greatest female vocal presence is chock full of truly jaw-dropping anecdotes on what life was like in the studio and on the road and behind the scenes with some of funk musicís biggest legends. This kaleidoscopic journey with ChocíLet takes one back in time thru a magical era of music and culture.
She tells it straight with no chaser. There were times when I had to actually put the book aside to gather my wits, like when ChocíLet recounts the tale of a drug-addled Sly not only pointing but firing a loaded pistol at her and then laughing it off as if it was nothing at all. Or the seemingly unending stories about the Jeckyl/Hyde nature of Larry Grahamís coke-fueled outbursts and alleged bisexual exploits. In fact, I came completely apart and found myself shaking my head in disgust at Grahamís greed. The story is all too familiar. Frontman pockets millions while his band toiled for a measly weekly wage that bordered on poverty level.

Graham apparently continued these cold-blooded bizzness practices behind the guise of his Ďsavingí at the Jehovahís Witnesses Kingdom Hall. Patryce unlocks the truth of what really went on behind the scenes of the show-stealing performance at Sinbadís Summer Jam a few years ago. For fans of the group this may be a bitter pill to swallow. But once that pill gets in yoí system all that glitters ainít gold, especially in the behind-closed doors often clandestine business of pop music. Patryce recounts literally dozens of episodes throughout these pages and pens one of the most frank and accurate memoirs Iíve ever had the pleasure of reading.
ChocíLet didnít write the book with any bitterness and provides the reader with as straight-forward an account as Iíve ever sat down to. All the juicy tidbits are there for sure, and I could go on and on about those. Honestly, that is what initially drew me into the book, but as I read on what I found was a deep introspection, profound wisdom, respect for life and peeling self-analysis.
This deeply personal and profoundly moving story is at itís root, about one womanís challenges and struggles for self and professional respect in a predominantly male-controlled industry and society. Itís a veritable whoís who of black music in the 70s and beyond. From her collaborations with hard-working Stephanie Mills, wild times with Chaka Khan, backing vox for artists as diverse as BB King to NWA(the latter of which were completely spellbound by the presence of The Funk Goddess) & too many others to begin to mention, Patryce has come full circle.
She is now respected throughout the music world as one of the great innovators in the genre. Give the soul sista her heartbeat props for this brutally honest, light-hearted and at times gut-wrenching account of her experiences from inside the trenches of one of funkís most powerhouse bands at the height of itís creative and commercial powers.
Get it, read it for yourself, you will be a better person for it.
Reviewed For TheFunkStore.com..By
Noted Cincinnati-OH Funk Journalist~"Bustin'"Bob Mitchell
Compiled For TheFunkStore.com..By:Tylard Tatt II




(WORLDWIDE FIRST CLASS SHIPPING)
$32.98=List ....TheFunkStore Price =$24.98//$6.50 s/h
($13.50 S/h OutSide USA)
Powered By SGRGrafix ©/TheFunkStore.comôģ..A DIVISION OF SGR.com