Loading...







If you, like most folks missed out on the most slept upon funk band of the 90s; Bootsy Collins Presents Shag, don't fret, the band's monster bass man, Chris 'FreekBass' Sherman is again at his funky best. He has emerged from Cincinnati's Bootzilla Funk Labs with his first solo effort, "Body Over Mind". This is one of the premier straight ahead funk bombs of the new millinieum. A 13 track set that explores old skool funk vibes and pushed them into the 'funkalistic future' he sings about on one of the album's best tracks, "Freekbass 2YK". I witnessed the raw funk prowess of Shag a few years back at Athens' Historic Georgia Theater and quickly became enthralled with the group's heavy Cincy Funk sound. This is just as heavy but smoover.
From Bootsy's opening vocals and the electronic 'dripotica' of the Intro, you know its gonna be 'on the one' in the tradition of a line of supergroovealistic funk heavyweights. 'I can't get enough of that Freekbass', Collins intones as the set takes off into grooves so elastic they snake, shake and quake and smoke all over the party. This is some feel good/party funk. Freekbass makes no apologies for being 'turned out by the low end frequencies' he engages on in this full frontal Bootsy- influenced bass assault. Its Mutron madness to the 9th power but Freekbass is no CasperClone. If you got funk you got style,and he is full of both. The whole project does have a Bootzilla/Rhinestone RockStar Monster feel to it as evidenced by Collins being the executive producer. But Freekbass promises to make it 'as heavy as it needs to be' and gives up the 'genetically mutated metal' throughout the set.
Horns blaring and blowing like it ain't no tommorow over a Steve Washingtonian Slide bass vamp on "Mission", late 70s Funkadelic styled vocal layering on "She's Already There", plenty of foot in the bass drums giving way to a Big Rob speed rap over an egyptian snake charmer keyboard squiggle on "Thang", a whirling organ and Shabba Ranks-like reggae rap vocal on "Sense of Anxiety". This is some funk. Dayum, there goes those horns again. In fact, if you are a musician and can't get Fred or Maceo to blow on your next joint, call these horn cats, they are putiing down some tight-ass charts on here. The boy was obviouslly weened on some Ohio Funk masters alright as the synth wiggles and squirms over a heavy bass bottom anchor on "Baby,Baby" my persponal fave..
The Zapp-influenced talk box and JB 'Gimmie Some More' horn riffs of the title track as Freekbass invites you to 'come taste the freedom' and 'don't get left behind'. In fact free your mind and your lil booty should come trotting along to this. He even takes a Fred Thomas/JBs bass vamp and melts it down into a groove suspiciously remnant of Bootsy's "Another Point of View" on the song "Peppermint Leather" before smoldering the track down into a heavy metal guitar funk and roll work out. I love it. If there is a message on this record it is to be yourself and give up much love every day to those around you. As he sings on "Do What you Gotta Do", 'be who you gotta be/may not make much sense/but in the end it will set you free'. So come, do taste the flavor and the freedom of Freekbass.
Reviewed For TheFunkStore.com..By/Funk Journalist&Atlanta Radio Personality~"Bustin'"Bob Mitchell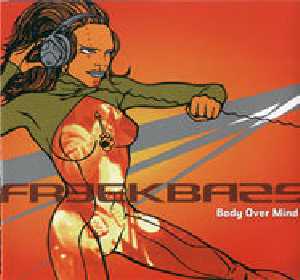 1.(Intro)
2.Hear Me Play ~ListenNow
3.Mission ~ListenNow
4.Body Over Mind
5.Sense Of Anxiety ~ListenNow
6.Connect
7.Freekbass 2YK
8.Baby Baby ~ListenNow
9.Thang
10.Do What You Gotta Do ~ListenNow
11.Peppermint Leather
12.She's Already There
13.Silver 17 ~ListenNow

Fea:Bootsy & Catfish Collins
& MuddBone Cooper
EXECUTIVE PRODUCER : BOOTSY COLLINS
©2001**Gemini Records




$14.99//$3.00 S/h


Powered By SGRGrafix ©2002/TheFunkStore.com™®..A DIVISION OF SGR.com