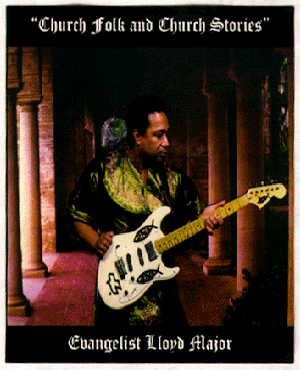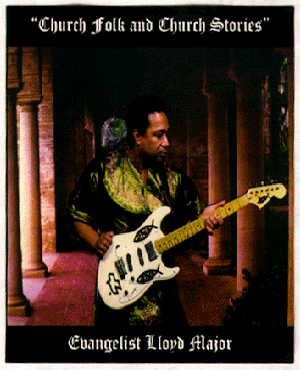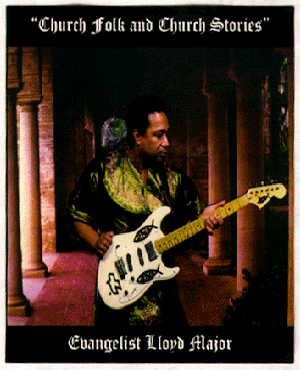 Now the saints, uh,er, those saved by grace ;responsible for the Gospel music explosion of the past decade kind of surreptitiously divide themselves into categories even though they all have a common denomenator, that being the shedblood of the Lamb of God has washed them of the sin of this world. Its like denominations themselves-those who are quite disturbed by a growing trend within the industry to reach out to another segment of the audience who ain't quite getting the message. Why do you think Kirk Franklin sampled some good ole Pfunk for his hit from a few years back? What was that, "Stomp" I believe.Some are just to uptight to acknowledge a funk/gospel connection exists but lets face it, different people can express anything they want to in many 'different' kind of ways. And theres also the 'two stringed' gospel chitlin circuit touting such age old road dog legends as The Williams Brothers, Jackson Southernairs and Slim and the Supreme Angels. But its all the same message and that is JESUS SAVES.
Now every now and again there comes along an artist that just refuses to go into any of these categories and falls between the cracks of quartet harmoniesand slick synth funk beats and bass lines but at the same time has produced a truly inspired eccentricity within the genre. That artist whose time has come is The Evangelist LLoyd Major. The format busting Major is a former Buffalo street funkster, who having bottomed out on various mind altering substances some years back, found in the love of Christ an inspiration and motivation to rise up out of his own, well, you know what. He's got a story to tell and plenty testifying to do, but he does it in a way you ain't never heard before on a gopsel record. Trust me on this. His sound is both ground breaking, interestingly fresh and quite addictive. But he's traded his month long bingeswith some extended jamming and revival in the spirit of the Lord. Indeed, often those who dropped the furthest end up soaring the highest. The CD is called "Church Folk and Church Stories". And for anyone who has had any affiliation with organized religion knows, these folk, their attitudes and stories can be downright sinful!! But The Evangelist holds no punches, putthis into your Sunday mornin' radio playlist and look out!! Not only does he get his message across some good raw charts, he takes us through a musical melange of throbbing metal, old skool psychedelia, old skool funkadelia, gut bucket blues work outs and some good old down home gospel. After all , all music we know today, the roots can be traced back to the black gospel, which gave rise to blues, which gave rise to rock and roll and funk. So the Evangelist takes it ALL back to the church on this one, back to the rightful source, where it all came from in the first place.It is a 'gospel' album that defies any kind of analysis or format.
Powered by (not the friendly ghost) but the Holy Ghost (could they really be one in the same) and the King James Version, Evangelist Lloyd Major takes us through a street scripture lesson of do's and don'ts, wills and wont's, demonsand angels, good and evil. But he never comes off as sounding 'preachy'. All over a delicious stew of all sorts of raw musical flavors. On "Church Folk", he delivers a gritty portrait of what everybody knows but nobody wants to talk about. That is some folk are in the church that ain't really saved. At least that's what it sounds like he is saying. He's seen the reverend coming out of the hotel, but with somebody else's wife. He's just calling these folk out straight up. He brings it to you over a John Lee Hookerish gut bucket church blues vamp. On thru the 60s-psychedlia of "Jesus is a Good God", kind of reminds me of some Prince around the time he had 'Pop Life'. Back to "Church Stories", now it gets pretty deep. Form the mint-popping wine-drinking deacon, to the man at the organ lookin like a woman, the woman in the choir looking like a man, the preacher was high and his wife was boppin on theside. Whew! Speak the truth brotherman. Sinners saved by grace indeed, as in Lawd Ha Mercy on us.
Some straight ahead pop funk is in order for the next cut "I've got a Message For You". And some pretty nasty rhythms squiggling from up under the guitar over the stomping 2-4 funk drum beat.He's caught up in something here as he really drives the track home with more nasty Little Milton like blues guitar rumblings, like he's playing up under and in and around the driving beat. As he wails "Jesus will set you free". The Evangelist toys with some metal on "Can't Do Nothing Without the Holy Ghost" but really makes it fonk!! With guitars and drums bangin' he whips and works the high energy workout into a holiness worship service (I can almost see folks being slain in the spirit, speaking in tongues). He ought to let this one loose in the church house, somebody would probably ascend to 'on high' during the service. More amazing guitar over a slow tempo street funk beat can be heard on "Why Reject the Plan of Salvation", then he just lets it out this super psychedelicmelt down of a solo tinkled with the teasings of a vaudeville like piano riff. But the message is right up in your face, all ya gotta do is believe it, take it to the alter, and leave it there. Why not, can only do you good huh. Life is really a vapor indeed, betta think about brother, sister. He sets it out street style in a way that folk can relate to , just truth with no chaser. Saving gang bangers and dope slingers is this evangelist' game, and it sounds like he knows what he's talking about too. Overall, its a departure indeed from what you come to expect from either category of black gospel. The Evangelist is unafraid to call it and tell it like it is, and is unafraid to let a roaring guitar solo rip over nastified funk beats. He does it again on the albums last track "Stop Foolin Yourself" as he drops streetwise prophecy over some old skool Funkadelic style guitar and neosoul percussive rhythms. So check out the gospel according to the Evangelist Lloyd Major. Doesn't matter if you consider yourself 'saved' or not. This is music that will not only funk you up, but give you food for thought as well. Church is in session,and this album will have you speaking in tongues, I'm outta here.
Reviewed For TheFunkStore.com..By/Funk Journalist&Atlanta Radio Personality~"Bustin'"Bob Mitchell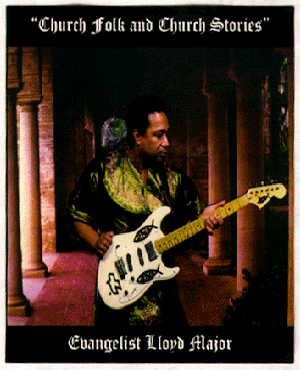 1.Church Folk ~ListenNow
2.Jesus He's A Good God ~ListenNow
3.Church Stories
4.I've Got A Message For You ~ListenNow
5.Part I:Angel Harps Of Healing
6.I Can't Do Nothing Without The Holy Ghost ~ListenNow
7.Part II : Angel Harps Of Healing
8.Why Reject The Plan Of Salvation ~ListenNow
9.Jesus Raised Me Up ~ListenNow
10.Stop Foolin YourSelf ~ListenNow