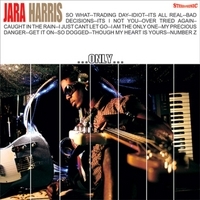 JARA HARRIS
ONLY

TFS Release Date:12/23/2014
LABEL: Jara Harris / Trak Light Entertainment
COUNTRY OF ORIGIN: USA
DISC : 1
CONDITION: NEW
STOCK STATUS : INSTOCK


Slapback came barnstorming outta Southern Cali in the early 90s with a bubbling wellspring of groove-drenched beats that never seemed to run dry creatively.
The band's incandescent vibe attracted the attention of Cameo's Larry Blackmon and Funk King George Clinton. Both of these legends actually appeared on the group's ambitious debut from 1992,
"Fast Food Funkateers". This record quickly became the stuff of legend throughout a groove-starved funk community. With it's Shuggie/Sly-soaked laid back life-affirming California vibe it definitely raised the attentiveness of funkateers worldwide.
And the band wasn't afraid to scorch a ballad or two either. Just who were these fast food funks and what else was on the tasty menu? This synth-slithery, bass pounding invasion was led by visionary, master multi instrumentalist Jara Harris.
And the elastic futurism of his music proved to be anything but a fast food fry up. Slapback went on to deliver 7 more critically acclaimed studio funk bombs. Muggs hadn't grooved this hard since the glory day of Parliament, The Time, Zapp and The Gap Band. Slapback is the genuine real deal.
All exploding in ecstatic eargasm to establish a rich 20 plus year legacy of one of neo-funk's most colorful, enduring and exciting funk low riders. If ya missed 'em the first time don't fret as all the classic Slapback albums are still available. Every now and again I like to load up a Slapback playlist any Saturday afternoon, hit shuffle and basically groove my ass off!
'Nuff on the history. Once upon a time called right now here is the fearless leader to save the funk in full bloom. 'Bout that time for Mr Harris to step out and do that solo thang. And not unlike the Prince and Junie that came before him, this one man funk demolition crew delivers a sonic palate of densely woven good time groove to set yo' panties to dripping.
Quite actually, the slithery fonk of "Trading Day" would have fit right in on say, Sign Of The Times. From the opening track, it's clear the man's mission is to wreck your sensibilities of what the funk still needs to be. These tracks are organic, many refreshingly featuring Jara's inspired real drumming (of which this prodigious talent began to play at age 4 ).
Harris ain't no joke on guitar either, the man's Jimmy Page-inspired acoustic axe strumming can take your mind to some pretty spacey, lofty heights on a couple of these earthy tunes. It's these kinds of juicy surprises ensconced in the grooves all throughout this effort that let you know he's not your average round the way funkateer. The earjam he began with Slapback continues.
Watch out though, because just as quick as he puts you in that mellow space, next thing you know you're oops upside the head with a slamming march straight into the land of fonk on cuts like "I Am The Only One". That chunky, thick, gooey sauce of true rhythm just pounding away at hedonistic musical abandon.
Then there's the ultra-electro future stroke of Minneapolis styled 80's boppers like "So Dogged". What I'm saying is Jara has wrapped up all of his influences into a tight, superb groove assault as concise and sharp as his laser witted musical mindscape. These cuts are at once personal (the ballad "Though My Heart Is Yours") and expansive.
With "Only", Jara Harris has captured a supremely talented artist in mid flight of a spell-binding musical journey that began in early childhood. So allow this music to elevate your mood and senses into the aesthetic realms of sound ecstasy. Better yet, load this into your stereo and basically groove your ass off!

Reviewed For TheFunkStore.com..By
Noted Cincinnati-OH Funk Journalist~"Bustin'"Bob Mitchell
Compiled For TheFunkStore.com..By:Tylard Tatt II
Compiled For TheFunkStore.com..By:Tylard Tatt II

**USUALLY SHIPS WITHIN 1 To 2 BUSINESS DAYS ..


TRACK LISTING
1.So What 4:09
2.Trading Day 4:22
3.Idiot 3:36
4.Its All Real 4:22
5.Bad Decisions 3:49
6.Its I Not You 3:18
7.ver Tried Again 4:16
8.Caught in the Rain 4:13
9.I Just Cant Let Go 3:34
10.I Am the Only One 3:32
11.My Precious Danger 3:47
12.Get It On 3:55
13.So Dogged 3:57
14.Though My Heart Is Yours 3:30
15.Number Z 2:47





(OUTSIDE USA)

(FIRST CLASS WORLD WIDE SHIPPING)
list Price =$18.98 ... TheFunkStore Price = $12.98
...$3.50 Shipping & Handling *** $5.98 s/h OutSide USA