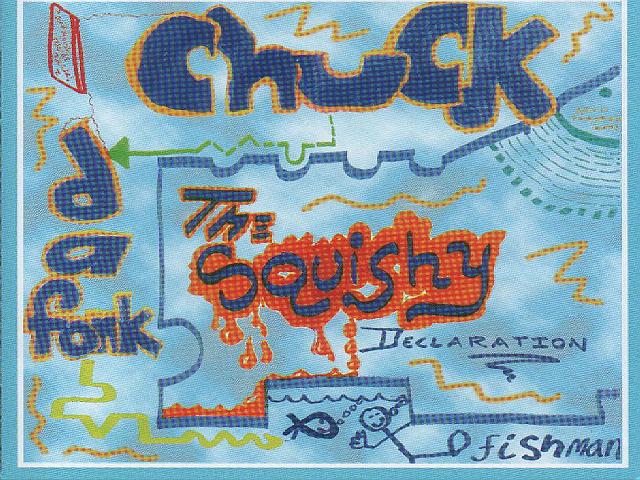 Although I did not know it at the time, I first heard Chuck 'daFunk' Fishman's spastic freak-out persona over a vignette on Bootsy's splendid "Fresh Outta P University" cd a few years back. I was like, who is this insane mugg trying ta cop a Casper impersonation. It was only after I dropped Chuck's latest effort into the cd player myself that I made the connection. I had no idea what to expect out of this project. Would the spastic freak-outs continue to oblivion? Did Chuck actually know what funk is, much less did he know how to funk? So often imitators and duplicators try to cop the Pee without much funk in their own trunk at all. Needless to say, this slab of nastified stank groove polluted my already over –funked central nervous system into anti-disco detox madness! I have not recuperated yet, if I thought I was ready for funk rehab before I heard this, I am absolutely testing positive for the funk now and just like Chuck, I will gladly Pee in anybody's cup.
On "The Squishy Declaration", Chuck (vocals, keys, guitar, samplz) is backed by FonkSquish; a plethora of totally treacherous and slightly silly rhythm invaders from what seems like another whole dimension. 'DaFunk' assaults your sensibilities with a brand of funk that can only be de-classified as 'rational metaphoolishness' as they blister thru 9 cuts of malodorous polyrhymics. Liquefied grooves pulsate and elasticize the listener into new depths of super stoopidity as Chuck drops a maggotronic prescription of unheard of vibrational zaniness through his totally unique, bizzaro vocal delivery. Guest Funkadelic alumni Billy Bass Nelson shows up all over the mix to provide a deeply dropped anchor into this incredible low- end- underneath- below- bottom phat blobs of funk infested bass thumps. The album hit me so hard I'm still picking my booty up off the floor (in pieces!!). Drummer extraordinaire Gabe 'Undi$co Kidd' Gonzales really shines on 'GFB(GefilteFishBoy)' as he and Billy Bass just flat out smoke over a super charged hi-octane 2-4 vamp.
Fishman is unafraid to slow the groove down to a heavy pimpadelic beat on tracks like "Discretion", one of a few compositions that play heavy homage to his lyrical P-Funk influences. He sings of being 'free of the need to be free' and talks of 'dropping the needle on the Brides of Funkenstein 45' on "I Am So Smart". What really got his brain cells stirring was not his up- bringing but 'of course it was that funk, of course it was that funk!!' As you bop up and down to sound bites of these slickery-dickery squishy licks, you will see that Chuck's funk is beyond analysis. The band has taken me on a groovealicious journey into funk insanity on cuts like "009's Theme", "She's Got A Gun", "S O U P", and "Voyage 2 Planet Polyrythum". He even tosses in a wacky social commentary with a funkafried remake of Parliament's "Colour Me Funky" that morphs into the bassline of Mutiny's "Semi First Class Seat".
So it's some sho' nuff stank. As the powerhouse vocalist Sherry Jackson belts out 'he ain't Dr. Funkenstein, he isn't Uncle Jam' but Chuck 'daFunk' Fishman has hit viciously hard with one of the most original, unique and invigorating chunks of funk of this new age. Chuck's " SOUP" is hott and right on. Ingredients include a 'dash of P Funk and a good helping of James Brown, a George Clinton dreadlock, and some soil from Kannapolis North Carolina', he even throws in some Sly Stone underpants to get that flavor just right.
Reviewed For TheFunkStore.com..By/Funk Journalist&Atlanta Radio Personality~"Bustin'"Bob Mitchell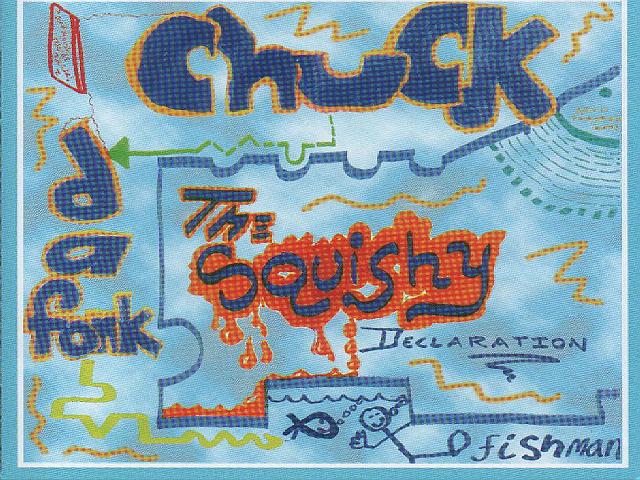 1.IAMSOSMART
2.THE MAPSONG~ListenNow
3.009's THEME~ListenNow
4.COLOR ME FONKY~ListenNow
5.SHE'S GOT A GUN~ListenNow
6.SOUP~ListenNow
7.VOYAGE TO PLANET POLYRHYTHM~ListenNow
8.GFB (GEFILTEFISHBOY) ~ListenNow
9.DISCREETION~ListenNow


Featuring : BILLY BASS , LIGE CURRY & GABE GONZALEZ