Loading...







420 Funk Mob(420FM), is a blisteringly funky assortment of singers, producers, musicians and arrangers usually found as the nucleus of today's current touring ensembles of George Clinton and the P.Funk All-Stars. Many of whom have displayed a musical genius in their own right, lets face it, even "on a bad night", its been said that the only other axxeman capable of even funking with master guitarist Michael 'Kidd Funkadelic' Hampton is standing right alongside him on stage, DuWayne 'Blackbryd' McKnight. Hampton, who has been with the Parliafunkadelicment Thang since coming into the band as a 17 year old wunderkind almost 30 years ago on lead guitar, has described his tenure with the group as 'being the guitar god for a band he can't escape from'. Capable of laying down some of the most ear-splitting, slashing metal riffs you will ever hear, he shows his chops off throughout some truly unbelievable P.Funk standards: He shreds up a smoldering Funkadelic anthem like "Red Hot Momma", blisters Eddie Hazel's "Maggot Brain"into a metal Spanish lullaby, and just destroys Incorporated Thang Band's bass heavy "Still Tight"( written by Trey Lewd).
The dynamic Michael "Clip" Payne, long time P.Funk writer, arranger and producer extraordinaire, leads 420FM. Clip is chief co-conspirator behind the massively conceptual WEFUNK Records and Filmworks. Just released upon the nation, is the"Prescription For Mis-America" by the band Drugs. Two tracks from that album appear live here (a super funked up "Deep Down in the Dumps", and "Cold Hearted World", which takes on an almost dreamy European, London foggy vibe as vocalist Toshe Reagon gets loose with her saucy, hallucinating vocals). And on 'Dumps' guitarist Adam Widoff gets downright wicked too. Clip was right, ya gotta see this band live! Also released last year was the splendid, critically -acclaimed weed anthem "After the Smoke Clears" from The CacophonicFM.
It's been 20 years since 'Clip-a-delic' emerged from that giant egg onstage to 'pin the tale on the funky' and celebrate the Big Bang of Parliament's now legendary GloryHallStoopid show. Here, he launches the super tight, heavy funk of 420FM into another big bang of funkdafried, frenzied P.funk titles. These commercially obscure jewels are the backbone of that underground art ; street funkin'. The New Funk has indeed busted loose, and this is it. Still breaking new musical ground with socially conscious positive nuisance. 420FM breaks them down, takes them back to their roots, playing every cut with a rawness of energy and abandon. Each song here becomes an irresistible eargasm and shows why these delicious P.Funk jams were so brilliant in the first place. Its like a liquid, fluid groove that is indescribable here, they really want to stretch the funk like taffy and show the true power of the Pee.
These are just unbelievable recordings that are beyond stank. This is what the boys (and girls) do "Live on the Off Days", their downtime and 'therapy', if you will from the rigorous touring of Parliament/Funkadelic. This is 'playing with our friends', as Clip tells the crowd early on. Although the P.Funk All-Stars are bound to go down in funk history as the premier improvisational rock and roll band, a Clinton set can be sometimes is, shall we say, musically compromising. This project allows them to stretch out on tracks not usually heard on stage with GC (who, by the woo makes a cameo appearance here on a rocked out 20 minute smedley of Old Funk classics like "You and Your Folks", "I Got a Thing" and "Funky Dollar Bill"). Under the banner of 420FM, they launch off into the tripadelic days of Parliament's classic lp "Osmium", mining it for the countrifried
Woodstock funk that it really is. "Moonshine Heather", "Funky Woman" and "Nothing Before Me but Thang" take on this massive, twangy, clangy, wall of funk sound. They play it with fire, I mean this is some definite Fi-Yah!! Long time P.Funk stage and studio legend Garry 'DoWop' Shider (who is all over the Drugs cd), sits in for a bone chilling extended guitar vocal jam on the Funkadelic/US classic ballad "Baby I Owe You Something Good". Like I said before, just beyond stank as the band pounds the jam into an industrial strength guitar chord, as, and this is a guess, Billy Bass powers the rythum guitar (ever heard him do 'Dogstar' with the All-Stars and besides, he is listed a guest on here). In fact, it's a mob of surprise guests, former All-Star guitarist, Andre Foxxe even shows up for that heavy, percussive, reaching-a-peak funk of "Naked" from his brilliant 'Millienium' cd last year, Foxxe showcases a veritable bag o' vocal styles as well. Greg Fitz from Bootsy's New Rubber Band just tears up the keys on here tinkling like crushed ice into a dry martini.
Drummer supreme Gabe "UnDisco Kidd" Gonzales turning out every drum mechanic in the book to assault to groove with a big beat, heavy foot pulse as solid as a pound cake!!! The earth shaking, quaking fonk of Parliament's "The Goose" and Funkadelic's "Balance" just knock an old time funk junkie like me to mah got dammed knees, dangst, did y'all have to get that nasty, daayyuumm! I've tried to mention airbody but its impossible to know who was up on that stage unless you were at these shows; culled from classic moments during the 420FM Super Meltdown Tripfests throughout the first performance at Tramps in 97 and on into the most recent SRO shows at NYC's Wetlands. Also mentioned on the cd are bassist Lige Curry, The Flash and Ted Orr, but it was just such a tribal vibe going on, who knows who else is up on there. So there you have it, I could write 5 pages on this cd and still not do it justice, don't be faked out by the track listing for "Funky Dollar Bill" fea. George 'just give me a band and I will turn it out' Clinton. When the Maggot Overlord hits the stage, things just go to a whole nother other- wordly zone. I have not heard funkin' like this on a cd, ever. Clinton just gets loose over an old Funkadelic power chord for about 20 minutes, nuff said. Its impossible to stop an idea whose time has come to pass, and 420FM is what time it is.

Reviewed For TheFunkStore.com..By/Funk Journalist&Atlanta Radio Personality~"Bustin'"Bob Mitchell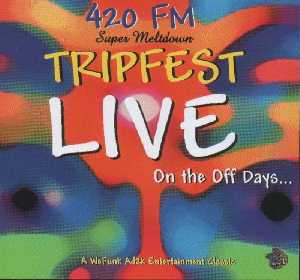 1.INTRO ~ListenNow
2.NOTHING BEFORE BUT THANG ~ListenNow
3.DON'T MESS WITH ME
4.MOONSHINE HEATHER
5.BALANCE ~ListenNow
6.WEST WOODY JAM
7.COLD HEARTED WORLD "RX w/Toshi Reagan" ~ListenNow
8.THE GOOSE ~ListenNow
9.STILL TIGHT ~ListenNow
10.NAKED
11.BABY I OWE YOU SOMETHING GOOD ~ListenNow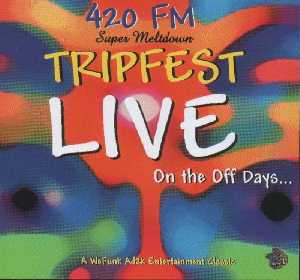 1.MAGGOT BRAIN ~ListenNow
2.FUNKY WOMAN
3.RED HOT MAMA
4.DOWN IN THE DUMPS
5.GOIN' CRAZY ~ListenNow
6.FUNKY DOLLAR BILL ~ListenNow
7.INHALE SLOWLY "w/Stanley Jordan" ~ListenNow


Fea:Garry Shider
& George Clinton
Andre Foxxe
Sheila Horne
Enemy Sqaud's GABE GONZALEZ
©2007**WEFUNK Records & Filmworks



/// TEMPORARILY OUT OF STOCK ///


$29.99//$3.50 S/h




Powered By SGRGrafix ©2008/TheFunkStore.com™®..A DIVISION OF SGR.com