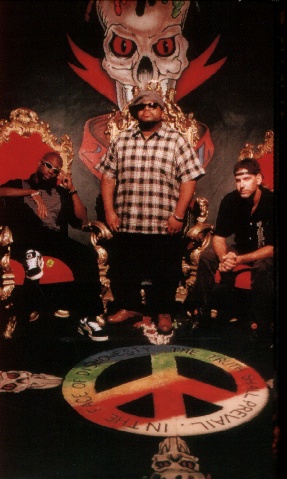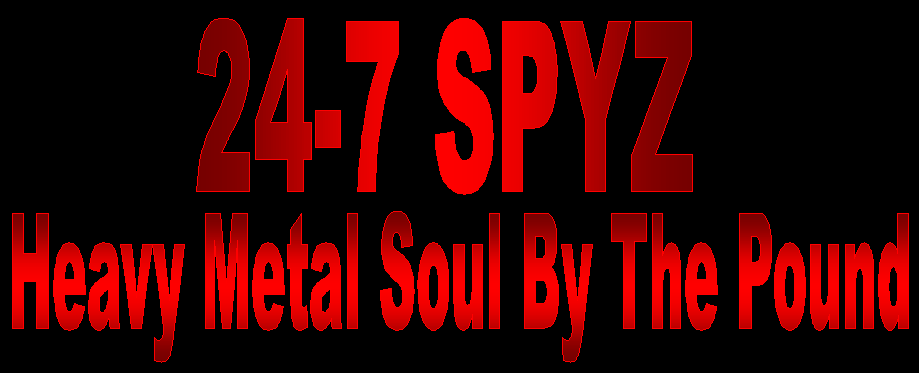 Radio doesn't play music people want to hear, they play music that they want to convince people to think they want to hear. So speaks one Jimi Hazel; chief writer, master axe destroyer, studio wizard and overall leader of 24-7 Spyz. This power trio was birthed at the end of an age that produced so much of the angst evident in early 90s grunge rock- that straightjacket laced bland-assed dire straights known as the 80s. Now don't get me wrong, I guess those days weren't all bad, afterall, the blacklash certainly helped to give rise to the emergence of the Black Rock Coalition.
Now before y'all accuse me of getting all politically correct, remember, I have the full realization that rock always belonged to black folk. Came out of the church if ya wants daa troof, as the old work songs, the Negro spirituals that metamorphed into blues, R&B, and then rock and roll. And even though radio wasn't solellly responsible for causing it to put on a white face, it dammed sure played its role! I was proud when I saw its flagship bands, Living Color and Spyz rightfully reclaiming their legacy towards the end of the decade. 24-7 was destined to become what could arguably be the grittiest, funkiest, edgiest, most realized band to spin out of the coalition.
They struck pay dirt in 1988 with "Harder Than You", kept the pressure on thru "Gumbo Millennium", an EP titled "This is 24-7 Spyz", and" Strength in Numbers" before coming full circle on the aptly titled "Heavy Metal Soul by the Pound". Once dubbed the 'Phil Specter of Metal', Hazel find his way around the studio like a professional engineer to give rise to a veritable wall of sound unbelievably attained by 3 musicians. One listen and its obvious he's one of the more talented guitarists in the universe, but I was astounded by how freely his writing and production styles flowed as well as his trademark wiry lead vocals.Spyz is kept in the pocket and on the one by the better-by-the-pounding happy foot, cymbal crashing drum skills of Joel Maitoza . The set opens with Rick Skatore's solid-as-a-pound cake bass thump as Hazel's hydraulic guitar chords lifts the jam of 'Spyz in the House' thru the roof.
The band quickly establishes an industrial strength, working man's groove with no holds barred lyrics that challenge the entire scope of musical reality on cuts like 'No Hope For Niggaz' and 'Clique'. With an in-yo-face chorus of 'there's no hope for brothers who play rock guitar, I'm not the first but I won't be the last and if you don't know 'bout your heritage look to the future but start with your past'. Deep. Then Hazel just rips loose with a souped up funkadelian guitar slaying over a roll call of all the black rock and rollers. From Charley Christian to Bo Diddley, Chuck Berry to Garry Shider, Spyz lets you know whom they weaned their chops on. Only one cut clocks out at over 5 minutes, and you can tell these mosh pit jams were designed to incite not only a 'take it to the stage' frenzy, but a deeper than deep introspection to reveal the real you.
24-7 Spyz is a band that has realized the full potential of music to release universal power. It's evident on every cut. They actually speak the lyrics of each song; tell what they are saying through their instruments. It's like taking the earthiness of an India.Aire and putting it in a blender on puree with the abandoness of The Who. And they get their message across like no one else I've ever heard.
Reviewed For TheFunkStore.com..By/Funk Journalist&Atlanta Radio Personality~"Bustin'"Bob Mitchell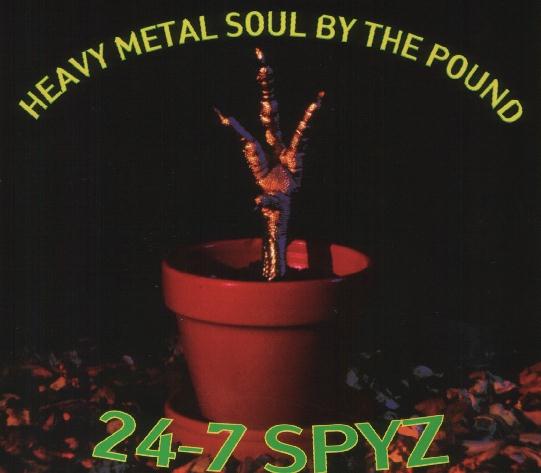 1.SPYZ IN DA HOUSE ~ListenNow
2.LOVE AND PEACE
3.YEAH X 3~ListenNow
4.IF I COULD~ListenNow
5.BURNED~ListenNow
6.SIMPLE MINDED SIMON~ListenNow
7.EYES DON'T LIE~ListenNow
8.INTERLUDE
9.EL LAME~ListenNow
10.EARTH & SKY
11.FREE TO BE~ListenNow
12.LET YOUR FANCY FLOW
13.CRUSHONYA~ListenNow
14.NO HOPE FOR NIGGAZ~ListenNow
15.LOVE FOR SALE~ListenNow
16.CLIQUE~ListenNow
17.SAVE THE WORLD